Another lose today! Manchester city of this season does not occur to me as the Manchester City I have been seeing for the past three seasons, this week is another premier league weekend, with lots of great EPL matches and it happens to be premier league week 9 and Manchester City is still at the 10th position, which looks bad to me as for the case of Manchester city.
With Manchester City playing 8 matches in this seasons premier league now which implies that they are having an outstanding match, they have lost two matches and drew 3 matches which means they have won just 3 matches from 8 matches and drew 3 which gives them 12 points for now and also puts them in the 10th position for now and they could easily drop more on the table if other team wins which would drag them below those teams. Seeing this really upsets me because I don't expect this type of performance from a team like Manchester City.
Today's match against Tottenham would have been a most amazing match if that Manchester City had won, because they had more shots on target than Tottenham besides, Tottenham had just two shot on target but they were able to utilize it by producing two goals, well on the other hand, Manchester city with 5 shots on target could not produce an awarded goal because their goal which was scored by Laporte was disallowed.
Even without Manchester City winning, they really should have won but goals was not on their side, they had more possessions and more plays than Tottenham but Tottenham was on the lucky side and they won the match. It feels so shameful for a team like Manchester City to be at that 10th position right now, because they happened to be the previous defending EPL champion, becoming second on table last season and even one of the strongest premier league club but at their current position now I really think Pep Guardiola needs so restrategies because if he and his club continues like this, it would be a mess and blow on his face,
However Manchester City haven't been playing as expected but I strongly believe they would get back themselves their winning ways and perform better than now, but if care is not taken, they can go lower than this on the table, let's just seat back and relax and see what the future holds for this team and how they can struggle out of this.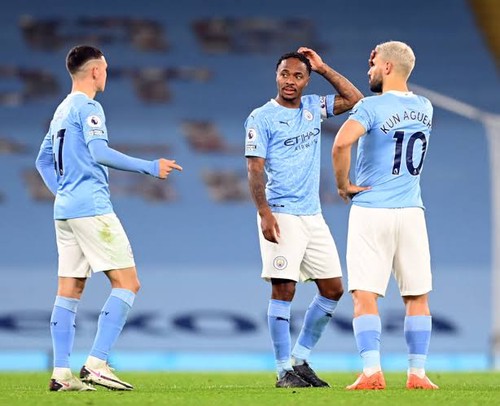 Check my post on my other social media
Twitter: https://twitter.com/jsulaimonn/status/1330256110259941379?s=21
Hive: https://hive.blog/sport/@sullijay1/what-is-happening-to-manchester-city
Blurt: https://blurt.world/blurtsport/@sullijay1/what-is-happening-to-manchester-city