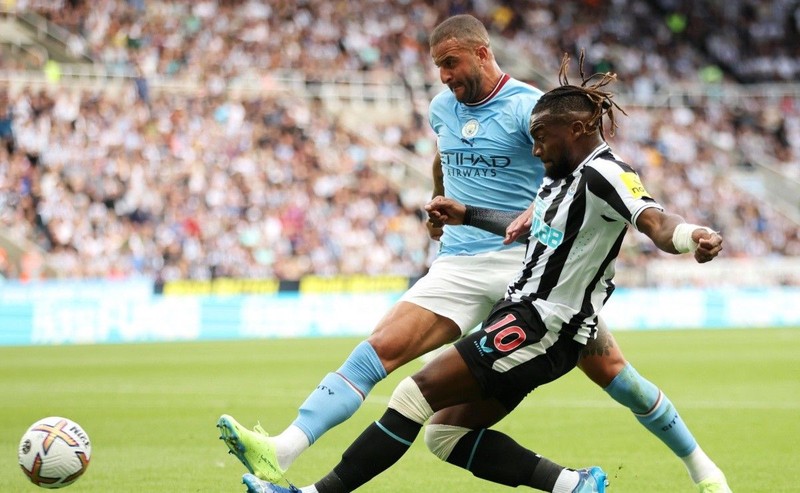 You know I am Tottenham fan, but I will not let this Manchester City - Newcastle game and Allan Saint-Maximin's performance fall in oblivion! Great game by two great clubs ended with result of 3:3 and both sides have something to regret and think they could win it with my favorite result 3:4 or 4:3. My favorite player outside Tottenham Allan Saint-Maximin showed great performance and it seems that everyone come to my stance that he's better player than Sancho from Manchester United. Those everyone include that club too because they are keen to offer serious money for French wizzard and he's playing on Sancho's position.
I knew that fact in times when Sancho came in Manchester, when all were delighted saying Manchester front 3 are the best, adore that United attack etc... asking who is better than Sancho ? I replied in cold blood Allan Saint-Maximin. :) Sancho is good player too, but ASM is an alien for him.
Way how he sent in trance right side of City defense was simply outstanding. They doubled players on him, but it was not a problem because he always find way how to cross or send dangerous cracking pass toward team mates. Remember that Almiron big chance ? Man in incredible and I really don't understand why is Grizman playing in France national squad and the best dribbler in top 5 leagues is not in this squad ? It was sad to watch how France lost game I think against Croatia without him.
It's true he looked like little off fuel in second part of second half, but even then he forced panicking CIty defense to foul him and Trippier to score effective free kick goal. All 3 Newcastle goals are his masterpieces. Cross, great pass, and forced foul near the box. It was performance for 10/10.
Even Totttenham twitter reacted saying club is considering approach for him with offer of 35 million pounds. Sorry Fabio you missed that train big time! Time for that move was in summer when you decided 40-45 million Euro to much money for this wizzard and to approach Everton to buy Richarlison for 60 million. Big mistake! In this moment of time ASM is for sure not for sell and will have price tag for fear respect like 100 million.
Player who likes to joke on twitter said I hope Didier Deschamps knows his TV channel codes... :) He wants and ABSOLUTELY DESERVES to play for France on World Cup. Didier don't make me cry on twitter "Maximin where are you now ?" during France World Cup games. He's not only top player but top person who helps people in Newcastle in free time. Before City game he took 100 young kids who support Newcastle and buy Lego toys to everyone. He always participate in charity activities in Newcastle too. Top player, the best dribbler and top person.
Let's not forget Callum Wilson too. His run and goal was class. He need so little to find the net. He's hungry for goals and I hope he'll score a lot of them this season.
This team from upon the Tyne is very serious contender for top 6 if not top 4 this season. I am glad for Newcastle fans because they deserve to have competitive team after so many years. Howdy Geordie boys boys ? What Shearer would say toons, toons...
About Saint-Maximin I am glad when I am right about something and I was right for this guy big time! I can't explain how excited I am when I watch Newcastle game waiting for him to get ball to see what is he going to do. Real joy to watch!