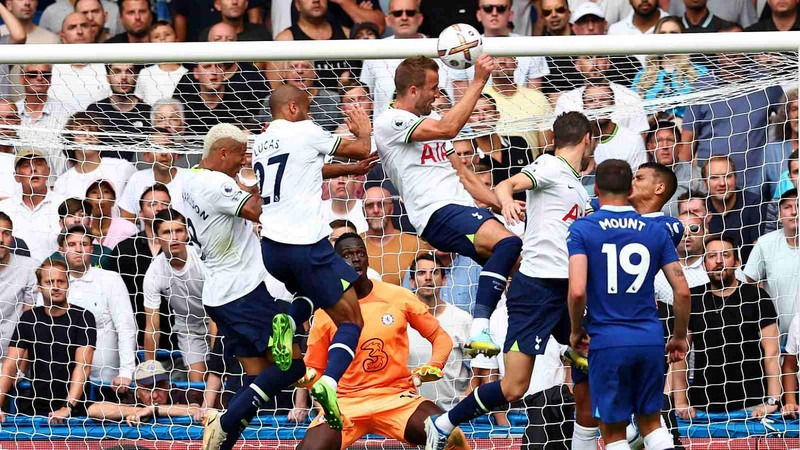 Tottenham draw 2:2 against Chelsea away and we have all questions answered after this game. Here they are:
Is Son Heung-Min a superstar ?
No he isn't. He is more like super model unable to do almost anything useful on football pitch these days. He went on my nerves hard during this game, I would change him at half time if I am Conte. Tottenham played solid in first 10 minutes of first half. Chelsea made one big mistake, it was a promising attack but very bad Dejan Kulusevski gave Son ball little behind. However Korean took it and had one on one situation, but waited and soon it was two on one and he waited more and then tried to pass ball back from the box and did it wrong. That is not how superstars are playing football.
Spurs had attacking set piece free kick, Korean took the ball and instead of cross sent it 10m over goal. What a pathetic set piece, what a shame! That's not how players who pretend to be a superstar are taking attacking set piece. He lost dozens of balls I think including one which lead to couple of corners after which Kalidou Koulibaly had volley all alone and scored for 1:0. Son acted on pitch like some supermodel and not super star.
Ivan Perisic taking corners near the end of the game was like revelation. He is so better in that than Son. He can send excellent crosses, we were living danger near the end from corners and scored from last one.
2) Is Thiago Silva to good defender for Harry Kane ?
No he isn't. Kane didn't have the greatest game, but showed that he can go around Silva and enter into chance. He scored that second goal by head in injury time after Ivan Perisic sent perfect cross. Yes Chelsea defended that set piece pathetic, 3 players jumped and were ready to score, but big daddy touched the ball and sent it in little net of Mendy's goal.
3) Are Tottenham a title contenders ?
No we are not. We started game good, but as soon as Chelsea entered in another gear around 10-15th minute we disappeared from the pitch. They were much better, faster, they wanted ball more, we were badly off pace, our midfield overran and dominated. They dribbled us like oxen and it's a miracle we didn't concede more goals in first half.
Lloris saved one big chance and sent ball coming in other corner of his net to the corner with his foot. Kalidou Koulibaly had another free volley inside the box, someone had clear attempt on goal near Emerson Royal inside the box but missed. Big luck if you ask me. We had one big chance over Sessegnon who was alone in front of Mendy but didn't score, but that was all. That's not how serious title contenders are playing football.
We tried to attack them in second half, had chances over Son and Kane, scored those two goals, but they had few more chances in this half too. Spurs were much better in second half than in first, but both of our goals could be disallowed by some other referee because Richarlison might interfere from offside in blocking view of goalkeeper on first and Romero pulled Cucurela's hair on corner before one from which we scored a second goal.
However don't fall on Spurs plundered Chelsea talk sport narrative because Cucurella stepped on Romero's leg deliberately in first half and because it might also be a foul on Kulusevski before Chelsea second goal. Referee of that game was an bad egg. He sent off Conte at the end because grizzle on Chelsea bench pulled his arm during handshake after the game blabbering something and initiated fight. Referee also missed to send Tuchel off when he ran in front of Tottenham bench celebrating second goal or when he initiated fight after Spurs first goal for no reason by yelling on Antonio. James get only one yellow card for pulling from the back and he did it twice in first half against Son. He could have seen red you know.
4) Should Eric Dier play for England in Qatar ?

Yes he should. Romero and Dier were very good in this game and defended very good.
5) Is Emerson Royal good enough player for Tottenham ?
No he isn't, as far as I am concerned he can start searching for new club. He stopped to some extend Chelsea players on his side, but he carelessly allowed open shoot from inside the box in first half and passed poor balls to Mendy couple of times when he went in attack. He's not title challenging right wing back.
6) Can Tottenham break disciplined high press and take ball on other half ?
No we can't because our midfielders are to slow and allow opponents to outnumber them. I am not sure is it because of formation or because they are slow, but we can't take ball on other half in such situation by doing short passes, but only by sending long balls.
7) Can Tottenham play football when opponent is initiating little body contact and push during receiving ball and referee is not giving fouls ?
We can't. We still depend on referee to give us those fouls or we will just lose the ball over and over again.
More observations about game:
Ivan Perisic is doing corners much much better than Son. Dejan Kulusevski was also pathetic and ruined one promising attack trying to send ball between Silva's legs. He lost ball in dangerous area for second goal, he was off pace and very very bad in this game. Sessegnon was also bad and struggled on his side very much. Hojbjerg and Bentancur looked outran and helpless too. Hojbjerg however scored goal with very good attempt from outside of the box which is encouraging. Antonio said after the game he is forcing those midfielders to shoot on goal from outside of box more often because we need their goals too. That was music for my ears.
Good thing was also we didn't surrender, we fought to the end hard which is sign of mentality change. We don't accept losing games easily any more. However that performance from 10th minute until end of first half was for real worry and I almost switched off TV during break because it was really really hard to watch. It was also sad to watch Son playing like he did in first two games of this season.
It looks like Ryan Mason will lead Tottenham in next couple of games because of non deserved red card for Conte. It will be good opportunity to see what did he learn from Italian boss and will he shout near the line all the time.
Antonio Conte... he eats Spaghetti, he drinks Moretti.