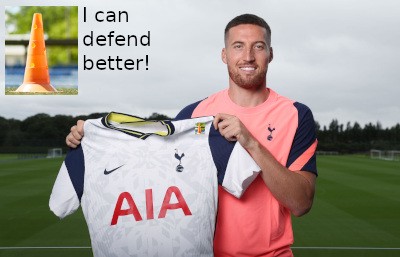 Tottenham easily lost North London Derby against Arsenal yesterday. Spurs fans knew it could happen, but what I didn't know is fact that they are going there not to play anything, but for just little jogging. This display make me think it's some part of Mourinho's mind play where he wants Arteta and everyone to believe Tottenham has been done before possible Europa League match against same rival. If that was goal mission is fully accomplished. He even managed to convince me that Tottenham has been done in this season.
Jose picked up on paper strong squad Kane, Son, Bale, Lucas and someone could think he wants to be on front foot and play attacking football. However way how players stand on pitch, lack of any pressure on Arsenal's pathetic defense make me think he ordered sitting back and waiting for counter attacks. If that was plan then he should pickup better right back or someone else who will close right defending side instead of Bale.
Worst man on pitch was Matt Doherty. Arsenal young player Rowe destroyed him. It was clear he can't stop him after 10 or 15 minutes. Everyone could see that, but Jose didn't do anything to close that gap. Chances were created after breaking on that side, but no reaction. It was not first time when this player under performed. He's doing that since beginning of the season! Way how Kieran Tierney moved around him before Arsenal goal was ridiculous. It was easier than on training ground.
I have an offer for you Jose. I can obtain cone for you for only 20,000,000. GBP each. It can defend better than Matt! Sooner or later someone will at least trip over it and Matt can't even trip player when he goes around him. He's that useless. Foyth, Tanganga, Aurier all of them are football developers for Mr. Doherty. Cone has also one more advantage. It wasn't Arsenal fan in the past... LoL!
What do you say top 4 ? Champions League next season ? Why would Spurs play there ? Is it just to concede 5 goals in every game ? Thanks man... New UEFA competition "UEFA League of Conferences" is right competition for your lads. Go sell Kane and buy Benteke to strenghten squad a bit. Why are you laughing ? When he removed Foyth and bring on Doherty why he wouldn't sell Kane for Benteke ?