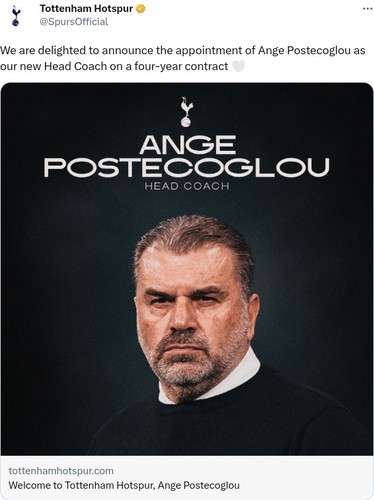 Long search for new manager is finally over. Tottenham and Ange Postecoglou signed 4 year deal and Australian with Greek origin will become new Spurs head coach. Contract length should send message that club see this man like long term Spurs manager and that Ange sees himself like long term coach of Spurs.
I hope club and fans will have patience with this man. People who know better than me are saying he's good coach who made each club where he worked better. Fans wanted attacking style of play and this coach will give them that type of football. However transition from club which is playing on counter attacks toward club which is playing possession based, direct attacking football will not be easy because we are "self sustained club" with little transfer budget. We are not famous for changing 7 or more players in one transfer window. We'll surely come to bumps on this road and it's important to keep faith in this coach, to have patience.
It's very important that club owners really back manager with players he wants so he can implement his vision in the club. It's also very important that every player know that this is main face in club and that they must listen him and do things he wants on the pitch.
I like fact he wants constant movements on the pitch, openings for passing, trying to recover ball on opponent half , direct forward passing and stuff like that. It's going to be exciting next season. Let's hope Ange will become Tottenham legend and our version of Jurgen Klopp.
Welcome to Tottenham Ange!