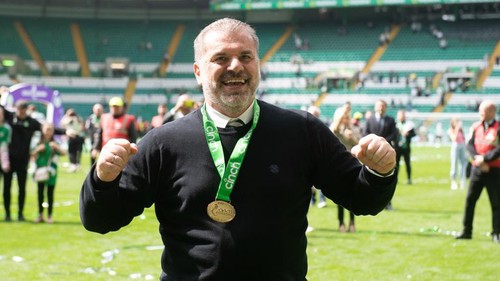 Australian/Greek manager Angelos "Ange" Postecoglou is new front candidate to become new coach of Tottenham Hotspur. At first I was disgusted with an idea because I never heard about him and because Scottish league is mix of like two Evertons and rest clubs from division one where two Evertons (Rangers and Celtic), are always champion unless someone like Sir Alex Ferguson shows up and win it with Aberdeen. So winning title there with Celtic for me is not some big achievement. Some managers who won it with two giants were not game changers in Premier League. Those are Martin O'Neil and Steven Gerrard. Working and winning in Australia is also not highest high for manager too. He also won title in Japan and that's where things become interesting...
I saw statement of someone with ex Yugoslavia first and last name who told something like this: he is very good coach, he is right man to convert ok but not the best squad into much better and even excellent. Rado Vidošić worked with him like his assistant. I thought that statement came from wish that Ange call him like his staff member, but man is already coach in Australia. So it's not that, it's a honest opinion.
Then I asked Sport Club journalist Vladimir Novakovic about him and he told me "Ange is a legend wherever he worked. He has big ambition and is not afraid of the challenge. I have no doubts he is good, but only concern is how will he work with Daniel Levy."
Then like through fog I remembered that at some point in the past while watching Japanese league for betting purposes I saw some previously unknown team for me on the top. It was Yokohama F. Marinos. I know our Serbian national squad coach Dragan Stojkovic worked in Japan and won one title with Nagoya and he's very very good coach too. Then I thought oh wait this man Ange won title in Japan with that club I didn't know exist in the past... Winning title in Japan is not very easy Pixi won one and he was like 4-5 years coach of Nagoya. This guy Ange must be good then.
Then I read about his style of play, not tolerating passing back or wide, asking to pass ball forward. He likes attacking football which is what Tottenham fans want. So he's not bad candidate. I wouldn't be unhappy with this appointment, but my main candidate remains Gallardo from River Plate who seems is not even on the list, but "could emerge" like late candidate.
Ange is also out of contract, free to employ, he doesn't like to work with DoF which is plus in Daniel Levy eyes because he doesn't need to appoint one then.
Talks with Greek/Australian manager will take place after cup final in Scotland. Wish in club is to appoint new manager in next two weeks. My advice is this whoever you appoint stick with him next 3-5 years, don't sack him no matter what happen, follow the plan, listen to the guy and bring him players he wants, explain to all players that he's main face in the building and that they must listen to him and captain Harry Kane.