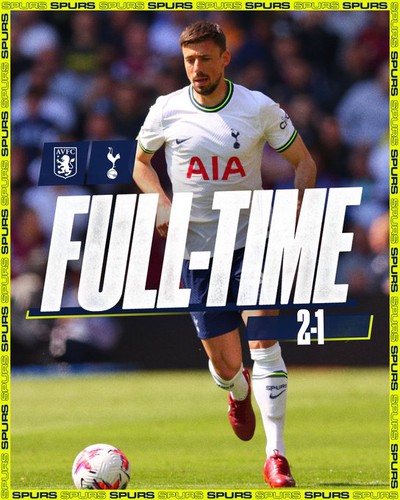 Tottenham players showed big non professionalism or shell I say amateurism in their yet another tourist trip on away game this time at Villa Park. Spurs lost with only 2:1 because Forster saved some attempts on goal. This group of players showed once again that they are not a team, that they lack fitness, basic football intelligence and desire to fight and win football matches. They are already disbanded 3 weeks before the end of season. If you ask me fans should boycott game against Brentford next week and no one should travel to Leeds to support them. Those players don't deserve any kind of support.
They proved once more Antonio Conte was right about everything he told in his epic press conference after Southampton match. Only thing they showed they really know was how to enter into offside position and how to fall on the pitch. They are real masters of that!
High straight line of defense of Aston Villa was to much of a trap for those "superstars". They didn't do literally nothing useful in attack a part of one ball taken on other half which lead to big chance for Harry Kane who shot into goalkeeper and few disgraceful shots by Kulusevski. Only goal scored near the end was consequence of Harry Kane fall inside the box after he removed ball from goalkeeper and then walk into him and fall over in dead angle toward goal. If I am in charge I'd give yellow cards for those things not penalties.
Let's talk about some crucial players and how I saw them today:
Richarlison - incompetent player who can't do anything useful on the pitch. Bad with ball, bad without ball with totally wrong mindset. Bigger waste of money than Ndombele if you ask me.
Son - had shocker, he scored 1 goal from 3 offside chances one on one. Other two went in post or wide of goal. Fall all over the pitch, losing balls like machine, always in offside.
Kane - missed big chance, tried to linkup play without success.
Kulusevski - should return to Juventus as soon as possible. There is no need to wait end of season. Imagine you are winger you get ball in space, you have advantage over defender run and fail to cross but get blocked like clown. Imagine you got ball you are setting yourself up to shot with your stronger left leg just to kick ball 20m over goal. Imagine moment after you have ball move on your left leg just to send it into goal kick in one of last attacks. I wouldn't pay 5 million for him.
Skipp - can't play in his role, should go out on loan or be sold. Slow, sluggish, bad. Not a player.
Hojbjerg - another one who doesn't care (for long time), who didn't exist on the pitch. Only good in thrashing with hands and arguing with teammates.
Porro - big nothing. Non existent in this game.
Romero, Lenglet,Davies and Royal tried to defend how they can, they were not criminal bad, but their team mates from midfield and attack put them under to big pressure.
Forster was good apart from conceding from that free kick. I think he didn't setup live wall good. Shot was in opposite corner of goal, he almost had it, but couldn't save. He saved few dangerous shots.
Mason - It's hard to tell. I am not sure it was tactical issue, it's attitude, desire and individual player skill issue again. I can confirm this players will not fight for Mason just like they didn't want to fight for managers before him.
For the end I can only quote Conte who said: "Excuse, excuse, excuse, try to protect them every time! Come on, come on we are professional. The club pay us a lot of money. The players receive the money, me receive money you understand ? Not to find excuse, to not have spirit or don't show sense of belongings or don't show sense of responsibility because we are showing these!" I can ask those players "Are you professionals ?" I don't think so. Professionals would not enter so many times into offside traps.
My advice for fans would be to attend protest against ENIC and Levy and to massively boycott next game against Brentford and not to renew tickets for next season. If players don't care, don't want to play, why would fans care or watch those amateurs ? Why would anyone travel on away game to watch this ? I get upset near TV.
For the end Aston Villa players are developers of football for you you miserable bunch of wretches!