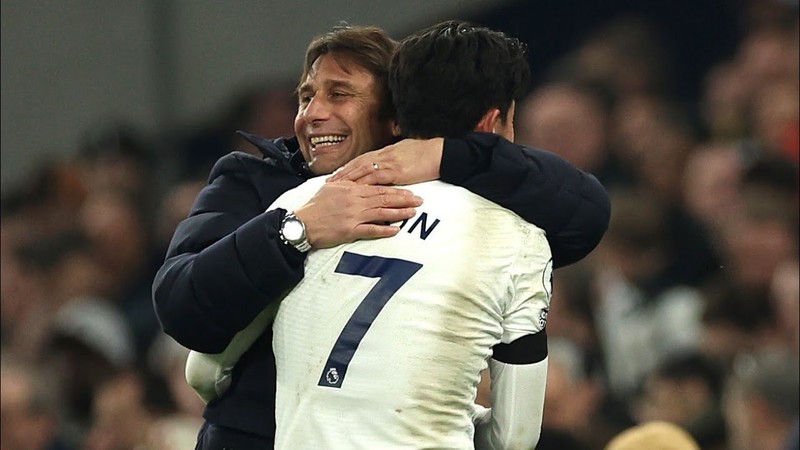 I wonder what did they tell each other during this big hug ? It could be something like this Son: "But boss I wanted to take that ball home!", Antonio: "Relax my boy, we don't want to fire up all ammunition now, let's save something for Liverpool!" :)
There are a lot of articles today questioning if Son Heung-min is a world class or an overrated player ? I think that his capabilities are very big and that he is world class, but at same time one that isn't showing that world class in each game. I know player can't score 2-3 goals in every game, there must be ups and downs in form, but for being super star you mindset must be like that! That mindset need to imply thoughts like this "I am superstar, when I get the ball I am not returning it immediately back to Dier or Davies, I take it, try to turn around, beat my man or pass forward to create action and dangerous attack". That is what I wrote in one of articles few weeks ago when he wasn't on his big level.
I think he read that or someone told him that and somewhere after Everton game he started to act just like this. No more returning balls, always tried to do something, pass forward, dribble, carry ball. Even against Brentford where a lot of Spurs players were not on their level he looked like the only one who can play or do something. He is doing a lot of effort, run like he never gets tired and scores goals for fun!
Some serious journalists have dug fact that he is very much ahead of Salah from Liverpool in expected goals statistic parameter. He scored more goals than Salah if we remove goals Mo scored from penalties. His main foot is right, but he scored more goals with his left (10!) than with his right leg! Opponents don't know what to expect from him. Will he kick with left or right or dribble ? That, his pace for which Liverpool coach Jurgen Klopp said 'Son and Kane were on bikes' and his ability to score goal from nothing are making him a great player!
His goal against Leicester where he founded far corner of goal near place where post and crossbar are connecting was absolute beauty! It looks like he added kicks from around 18-20 meters to his menu!
From all above reasons I think he is a superstar and a world class player! His mind changed to mind of a superstar a lot of teams will have troubles to save their nets from him! I want also to point out on his interview after a goal where he said his first goal is on Romero who made hard tackle in beginning of attack and ball recovery, that he is not scoring goals alone but as a team effort and that numbers don't mean much to him that he cares only for team and good result! That's mind set of a superstar!
Son Heung-min continue like that you set up big standards, we know what you can do! Be concentrated, fully in every game and score against Liverpool! I don't request win, I request to give everything you can on pitch and one or more goals in Liverpool's net! Let's make them sweat until the end! Let's convert Jurgen Klopp in nervous, jumping and complaining super villain on pitch line! Let's show him how bikes should be driven! I already know how I will celebrate when we score there, but will not revel it until match day! Yes I said WHEN not IF we score because there is no if in my or Son's mind.
Antonio Conte said he wants to make a 'revolution' in Tottenham! Daniel said he's ready to do anything to keep Antonio and to satisfy his demands for summer transfer window! For that I can only say "Viva la revolution!" :)
What do you think Conte and Son talked during this big hug ? :)