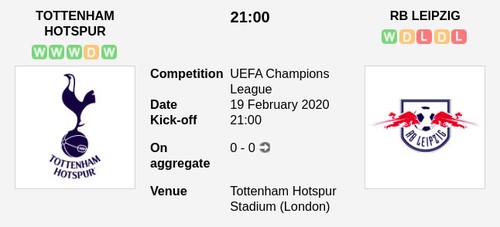 Two clubs born under lucky star face each other. First one which can win Manchester city 2:0 from 2 shots on target or Aston Villa after blunder deep in injury time, not to mention win in Amsterdam last year, while other mysteriously came back after 90th minute against Benfica by scoring 2 goals and making result 2:2 from 0:2 and stay in competition. Ladies and gentleman welcome to Champions League Tottenham - Leipzig game preview.
Tottenham
Spurs were completely lost against Aston Villa in first 25 minutes. J. Grealish dominated over Aurier, while on other flank El Ghazi showed once again how slow Tottenham left back Davies is. Crosses, chances, fouls, own goal, clearance from the line after impossible miss by Villa player that was how it looked in the beginning. Then Villians came into Spurs fast counter attack machine.
First Lucas miserably and selfishly missed great chance, then Dele Alli started to show big need for urgent lessons from H.Kane about clinical finishing. He missed three 100% chances. Miserable shot with top instead with front of head, pathetic miss of entire goal after one on one against goalkeeper and finally blocked shot when he could chose which part of goal to put ball in.
Alderweireld scored goal through ears of Reina equalizing result to 1:1 and things turn around. Steven Bergwijn was to fast for Aston Villa defenders and Spurs got penalty after foul on him which Son converted into goal after taking rebound from Reina who was furious on his teammates after. Second half brought equalizer for Villa after Engels jumped above Alderweireld publicly announcing Spurs are unable to defend set pieces and then Spurs finally showed some good football. Lo Celso came in, Son started doing good stuff, Alli missed new one on one chance. Spurs couldn't score. But then deep in 94 minute when it looked like already ended with result 2:2 Engels somehow missed clear ball allowing Son 100% chance which Korean didn't miss and big Spurs celebration could start.
Few amazing things happen in this game. Sanchez didn't make any blunder (!!), Alderweireld scored for both sides, Alli missed chance to score 4 goals. If he is fit H.Kane would take ball from this game home. He should really show Alli some tips and tricks about clinical finishing. I like to imagine what would happen with Spurs opponents if Alli starts to score 50% of his big chances ? :)
Aston Villa is not top notch club, but it's not easy pray at home too. It looks like Spurs need some time to get into game just like Mourinho said. However with Lo Celso and N'Dombele it's another story.
Leipzig
After bad start of second part of German championship, Leipzig draw with Bayern Munich away 0:0 which is big success. They won Bremen 3:0 in last game and it looks like they are going into form just before Champions League. Their Champions League games were far from perfect, they won Zenit in group and grab injury time point against Benfica after losing 0:2 at home. Leipzig scored 2 goals in most of it's Champions League games. They have superb in form striker T. Werner who scored 20 goals from 22 games. German side is just 1 point behind Bayern on the table and we saw what Bayern did to Tottenham in group stage. They are not for underestimating. Leipzig looked good in game against Zenit and in finish against Benfica.
Conclusion
We'll see goals here, way how Tottenham is playing last few games make me think we'll see over 2.5 goals here. Werner will probably score for away side, while Bergwijn, Son, Lucas or Alli should do the same for Spurs. I am like always afraid from Sanchez and Aurier, but have big hopes from S. Bergwijn who "when run down the wing is fast as lightening and he is frightening!" :)
He could make some mess in Leipzig's defense. Other I put big hopes in are Lo Celso and N'Dombele (if Mourinho let him play in second half). My advice here is both clubs to score and over 2.5 goals.

We'll see on which side lucky star will go this time. Two bets (X and 2) 25 SCR each are ready on betscorum. You can find this game here: https://betscorum.com/en-us/game/46409
Feel free to write your expectation from this game.
I say 2:2 and Son scores first.
UPDATE 18.02.2020.
Because Son picked up serious injury, I must change this prediction to 2:2 and Bergwijn scores first goal.