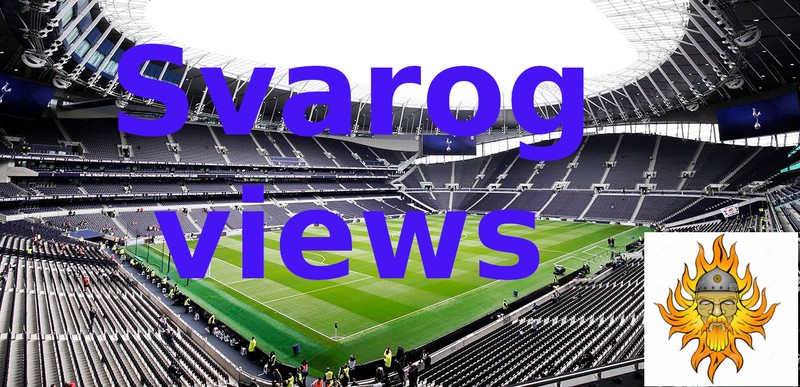 Great coach Pep Guardiola came to N17 for his usual annual defeat without scoring goal at Spurs stadium as Tottenham won the game 1:0. Harry Kane scored goal after Hojbjerg stole ball near City box in first half. It was solid team performance, very good defending,"dream of the dreams" as I like to call it. It seems that whoever was drilling in last weeks stopped doing that. We had some luck of course, some balls flight near post, crossbar, one hit it's inner part but didn't end inside the goal. We had one sitter in second half when one of the best players on the pitch Emerson Royal found Harry Kane inside the box, but he missed the ball. Son got one good ball for run and shot, but his effort was saved by Ederson. Son was also good, ran a lot, helped in defense and was always ready to run counter attack but didn't get enough balls in space to run and shot.
Kane's goal was his 267th and he is officially the best ever Tottenham goal scorer now in front of striker from 1960ies Jimmy Greaves. I am happy for him .He received Conte's call after the game and boss congratulated him in the dressing room. Legend asked him boss will you see you on Wednesday ? :)
A lot of twitter and social media coaches slandered our staff for starting Emerson Royal and not Pedro Porro who came in few days ago. Emerson literally nullified 100m worth Jack Grealish, frustrated him and Pep Guardiola to the rarely seen point. He jumped and removed ball from Jack's head in first half, stopped him numerous of times. He was one of the best players on the pitch with Hojbjerg. Emerson's physicality is amazing. In one moment he's at the back, in other he's running in space in attack.
Downside is Romero got two yellow cards. First without big reason near center in first half and second with very good reason near the end in 84th minute when he fouled and prevented almost certain goal for visitors. We had few more very promising attacks, but didn't made the best and quickest passes and didn't convert those situations into big chances. Kane had one more when he somehow go through two defenders but his falling effort was saved by Ederson, deflected to him and in goal kick. In one more his shot went wide of goal and I am not sure if he tried to pass to Son or to shoot. Hojbjerg had also few solid attempts.
Excellent game, important win which point out difference between Chelsea, Arsenal and us. Do you think they would win this game if Tottenham could benefit from it ? I can guarantee you they wouldn't. That's the difference. We're honorable club.
Word about referee. I might be biased but I think he gave to easy yellow cards to Spurs players in first half and didn't give one to Grealish for elbow in back which prevented promising attack. He went on nerves of Spurs fans, away players jumped on his every decision in second half expecting I don't know what maybe penalty for nothing ? I wanted to give him Arab title of Emir for not giving some clear fouls for Tottenham in first half and there was at least one obvious not given foul on center in second half too. However he didn't make cardinal error like penalty or something naughty.
Well done Tottenham, that is how we can play when there is no inner drilling. Please let those players play like they can in rest of the season! Fans were also very good singing "Antonio Antonio Antonio" in the beginning and near the end of the game. COYS!