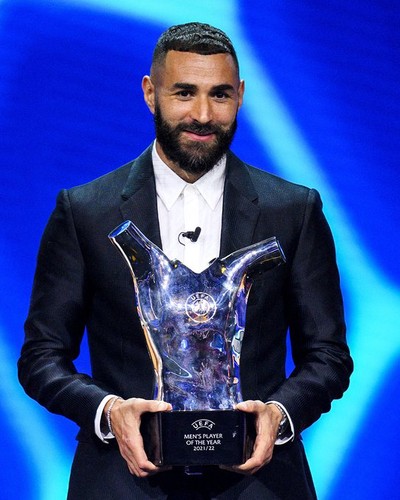 Big daddy - Karim Benzema took UEFA player of the year award. I can only applaud to him, because of what he has done in second part of last season. His performances against PSG at home, Chelsea and Manchester City away were "cure for soul" and will not be forgotten for many years, just like Bayern running riot few years ago.
Every honor to Messi and Ronaldo, they are both great players, but they played and won things with the strongest clubs of their time Real Madrid and Barcelona. This award has more weight because in this era PSG, Chelsea, Manchester City and Liverpool are all stronger teams on paper than Real Madrid. Karim Benzema destroyed first three of them, while stupid misinterpretation of idiotic football rule denied him well deserved goal in final against Liverpool. Real football fans count that goal on his account too. Yes it was more about great goalkeeping by Kurtoa in final, but PSG, Chelsea and City were all victims of big daddy - YOU - Karim Benzema!
Well done Karim you deserved this honor. You're 34th years old and living example to all football players that it's possible in that age. OMG I just remembered how you did take the ball home from Stamford Bridge and all those goals you scored there. You are real super star!