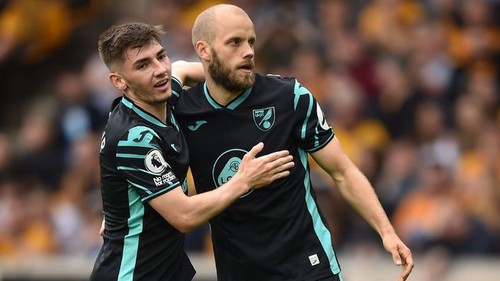 There are two ways which could lead Tottenham to Champions League next season. One is to win or draw game against Norwich at Sunday, other is Everton not losing against Arsenal away. I really hope Spurs players and stuff think only about first way. I really hope there will be no underestimating of Norwich or thoughts that we can beat them with walking and jogging like models on the pitch. I really hope no one at Tottenham is thinking it will be an easy game because it will not be!
Norwich have nothing to lose. They will play for pride and fans. It's their last game in Premier League. I have no doubt they will be charged with big electricity and receive advice how to play against us from North London rival.
Shell I remind everyone at Tottenham how they eliminated us from FA cup couple of seasons ago on our stadium ? They played without striker Pukki. Certain young player Troy Parrot cried after missing penalty in penalty shoot out in that game. If that is not big warning then I don't know what is. Don't find yourself in such situation on Sunday! Do not underestimate! Do not walk and jog on pitch!
Shell I remind you about games against Middlesboro, Burnley away, Brighton or maybe away game against Dinamo Zagreb last season or Mura this season ? Shell I remind you how Newcastle won us 5:1 when they were already relegated ?
Shell I remind you that ball is round and that every result is possible ? Shell I remind you there is a theory saying that each team no matter how weak it is must make one big chance in one game. Don't be in situation that chance like that decide result of this game!
Striker Callum Wilson lost tooth during game against Arsenal, his team mate ended up in hospital with head injury because they played honest, full heart, passionate game, value that. Don't let their generous help go in vain because you think you are to good to run and play serious football against Norwich!
"Bottlers bottled again!", "Spursy Spurs self destruct in Norwich ?", "Champions League you're having a laugh!" How does this sound to you ? Do you want to read titles like this on Monday morning ? Do you want to sit and watch Arsenal playing Champions League on Tuesday and Wednesday next season ? Do you really want to make bottle job of the century ? Do you want that entire world laugh at us ?! I hope not! I hope you will not allow this to happen.
I have better idea that you hear Spurs fans singing "Watching Tottenham on the Tuesday/Wednesday night..." during half time of our Champions League games next season while Saka, Rowe, Nkentiah, White, Holding and Tomiastu and other Gunners watch us playing Champions League.
Go out fresh, go out like it's Real Madrid, fight for every ball, run like robots from first to last minute, bring them inside Tottenham goal machine, decide fate of this game much before 90th minute! Help your team mate superstar Sonny to grab Golden Boot! He deserved it this season! Help divinity from N17 Harry Kane to reduce gap between him and Jimmy Greaves on all time Tottenham Hotspur goal scorer list and to move closer to Alan Shearer in all time EPL goal scorer list! Make our exalted fans chant "Antonio, Antonio, Antonio!!!" and 'Gimme gimme gimme a ginger from Sweeden he came from Juventus and he plays on the wing" during the game!
There is no doubt we are better team, that we can do it, but only in the case we don't underestimate and play serious! Be brave, play the best you can, give effort equal to Newcastle against Arsenal and there will be no problems! Don't let importance of this game bind your legs! I hope I am not asking you for to much! COYS!