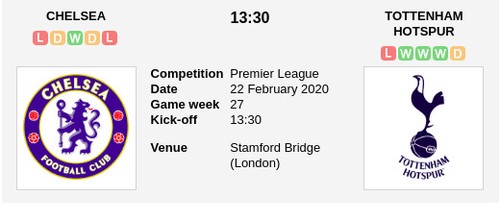 We are going to see new London derby between Chelsea and Tottenham Hotspur on Saturday. Game at Stamford Bridge will start at 13:30 o'clock and can easy decide destiny of those two clubs this season. Both wants Champions League football next season, but difference between wishes and reality is big.
Chelsea
Chelsea got robbed by referees against Manchester United. V.A.R. with personal from Manchester decided Maguire's attempt was not sufficient for red card. They are furious on referees and F.A. in general. Lampard's boys are currently 4th with 41 points which is only 1 more than Tottenham. Not so long this advantage was much bigger. That fact increase dissatisfaction between them. Chelsea has 12 wins, 5 draws and 9 loses, they scored 43 and conceded 36 goals this season. When we look them on home only table we see they are 12th with 5 wins, 3 draws and 5 loses. They scored 16 goals and conceded 14. They spill out a lot of points against not so good opponents. That fact made some of their fans claiming they are doing "Robin Hood football" taking points from big and rich and giving them to poor. :)
Tottenham
Tottenham easily lost game against Red Bull Leipzig yesterday fortunately with only 0:1 which gives them thin hope they might do something in second leg. However according to all what I saw yesterday I don't see them in next stage of Champions League. In last game in Premier League they luckily won Aston Villa after big blunder of Engels who missed clearly his ball. Spurs were better in that game since 30th. minute, but were lucky not to concede more than 1 in first 30 minutes. North London club are on 5th place on table with 40 points - 11 wins 7 draws and 8 loses. They scored 43 goals and conceded 34. They are just 1 point behind 4th place which is main goal for this season. On away table they are 11th with 3 wins 5 draws and 5 loses, they scored 18 and conceded 22 goals.
Current form
Chelsea is on 13th place with 1-3-2 8:8 , while Spurs are 5th with 3-1-2 7:5 on form table (only last 6 games). Last 6 Premier League games played by Chelsea are:
1.1. Brighton - Chelsea 1:1(0:1)
11.1.Chelsea - Burnley 3:0 (1:0)
18.1. Newcastle - Chelsea 1:0 (0:0)
21.1. Chelsea - Arsenal 2:2 (1:0)
1.2. Leicester - Chelsea 2:2 (0:0)
17.2. Chelsea - Manchester United 0:2 (0:1)
Last 6 Premier League games played by Tottenham are:

1.1. Southampton - Tottenham 1:0 (1:0)
11.1. Tottenham - Liverpool 0:1 (0:1)
18.1. Watford - Tottenham 0:0
22.1. Tottenham - Norwich 2:1 (1:0)
2.2. Tottenham - Manchester City 2:0 (0:0)
16.2. Aston Villa - Tottenham 2:3 (1:2)
Head to head
Results between those two clubs in games played since 2016 are:
27.02.2019 Tottenham - Chelsea 0:2 (easy win for Chelsea)

22.12.2019. Chelsea - Tottenham 2:0 (Trippier's A-bomb for 2:0)
24.01.2019 Chelsea - Tottenham 2:1

18.01.2019. Tottenham - Chelsea 1:0
24.11.2018. Tottenham - Chelsea 3:1 (Son Gangnam style easy win for Tottenham)
01.04.2018. Chelsea - Tottenham 1:3
20.08.2017. Tottenham - Chelsea 1:2
22.04.2017. Chelsea - Tottenham 4:2
14.01.2017. Tottenham - Chelsea 2:0
26.11.2016. Chelsea - Tottenham 2:1
02.05.2016. Chelsea - Tottenham 2:2
Overall head to head since 2000 discover guests are real patients of blues. 25 games 16 won by Chelsea 8 draw and only 1 Tottenham win with 53 goals scored for Chelsea and only 22 for Spurs.
Sidelined players
Tottenham is without H. Kane, Sissoko, Son and Foyth.
Chelsea will miss Christensen, Loftus Cheek and N. Kante.
With Mourinho claiming T. Parrot is not ready for Premier League football, Spurs only attack option is Lucas who is out of form with new Dutch signing Bergwijn. Chelsea is in much better situation here because only N. Kante injury is big blow.
Conclusion
It's well known that people from England live tradition and tradition is on Chelsea side. It's no secret that Spurs are not playing well too. They need 25-30 minutes to enter into the game, but against Chelsea this approach will be pernicious, because when they wake up result could be easily 2:0 for Chelsea. Mourinho's claim that T. Parrot is not ready for Premier League football and insistence on Lucas as striker limit Tottenham attack options. On the other hand Sanchez played 2 good games and increased his form, but insistence on Davies, who is slow as turtle, on left back and disgusting Aurier on right make this defense to weak. His claim that N'Dombele is not fit enough also weakens midfield. I don't know reason behind not putting G.O.A.T. Tanganga in team, but feel it's wrong. Chelsea is not in big form too, but I think they have what it takes to defend 4th pace and to beat Tottenham on Saturday.
That's why I see clear 1 and easy win like 2:0 here. Odd of 1.80 looks quite good. I put 50 SCR on betscorum on chelsea win here: https://betscorum.com/en-us/game/19159
This article has been written for scorum loyalty program here: https://scorum.com/en-us/betting/@scr.predictions/scorum-loyalty-program-now-not-only-for-tipsters

Contest:
Feel free to write your opinion about this game with correct score and first goal scorer (in case you don't think it will end 0:0, if so just predict 0:0 ).
Rules:
If anyone guess correct score and first scorer right he'll get full upvote from me.

In case no one correct predict goal scorer, but someone guess right full time result he's the winner.




In case of multiple winners vote will be shared between them.




I'll upvote each comment with 10%, you can enter predictions until 22.02.2020 13:25 CET (5 minutes before game starts).



Thanks for reading.
I say Chelsea - Tottenham 2:0, Willian scores first.