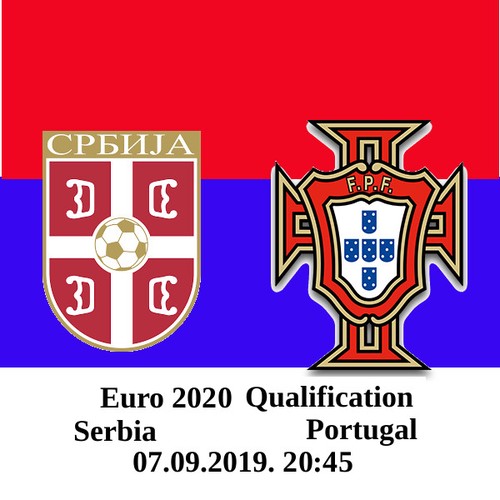 All major leagues in Europe have pause because It's time for national squads and Euro 2020 qualification. One interesting game which will be played on 07th September 2019 is group B match between Serbia and Portugal. Those two rivals faced each other in Portugal and game ended in 1:1 draw. I can say that Serbian side was lucky to get draw from that match. Group B table is looking like this at the moment:

Result grid is looking like this: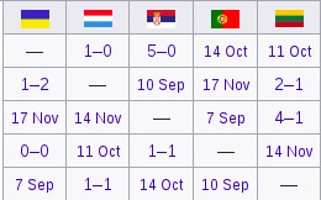 Like you can see Serbia has 4 points from draw against Portugal and win against Lithuania 4:1. Portugal played just two games at home drawing each 0:0 against Ukraine and 1:1 against Serbia. Ukraine looks like on top and in big advantage, but they played 2 times against Luxemburg and got 6 points from there.
Serbia changed coach recently. Mladen Krstajic is not coach any more. New coach is ex Montenegro boss Ljubisa Tumbakovic. He refused to lead Montenegro against Kosovo, announced that 24 hours before game and get sacked by chief of Montenegro FA Dejan Savicevic who said he disappointed him "as man and as coach". He could not understand such decision so close to game. Ljubisa Tumbakovic was long time Partizan coach and in that time he insisted on playing on short passes. He was not so bad in Montenegro in World Cup qualifications where that squad failed to qualify because few bad results at the end. He said that game against Portugal is for him of equal importance like game against Luxembourg because each can give 3 points. After debacle against Ukraine Serbian squad has no space for another bad result. People in Serbia think their squad can draw against Portugal at home.
Serbian coach Ljubisa Tumbakovic called following players:
Goalkeepers:
Marko Dmitrović (Eibar)
Predrag Rajković (Rennes)
Boris Radunović (Verona)
Defense:
Antonio Rukavina (Astana)
Marko Gobeljić (Red Star)
Uroš Spajić (Krasnodar)
Nikola Milenković (Fiorentina)
Nikola Maksimović (Napoli)
Matija Nastasić (Schalke)
Stefan Mitrović (Strasbourg)
Aleksandar Kolarov (Roma)
Filip Mladenović (Legia)
Midfield:
Nemanja Matić (Manchester United)
Luka Milivojević (Crystal Palace)
Nemanja Maksimović (Getafe)
Saša Lukić (Torino)
Mijat Gaćinović (Eintracht)
Darko Lazović (Verona)
Filip Kostić (Eintracht)
Nemanja Radonjić (Majser)
Dušan Tadić (Ajax)
Adem Ljajić (Besiktas)
Sergej Milinković Savić (Lazio)
Attack:
Aleksandar Mitrović (Fulham)
Luka Jović (Real Madrid)
Milan Pavkov (Red Star)
You can find some players you heard about like Dusan Tadic (Ajax), Luka Jovic (Real Madrid), SMS (Lazio), Mitrovic(Fulham), Nemanja Matic(Manchester United) etc... I want to point on Marko Gobeljic defender from Red Star. He had few bad games on start, but increased his form in recent games and coach decided to call him. He can be sharp in tackles. I also think there is enough creativity in midfield and enough ammunition in attack for scoring 1 goal which could be enough for draw.
---
Portugal coach Fernando Santos said that Portugal wants to go to Euro as first placed team and for that they'll need to win all games until the end. He said he respects Serbia, but thinks his side can win in Belgrade. Here is terrifying list of his players:
Goalkeepers:
Beto (Goctepe)
Jose Sa (Olympiacos)
Rui Patrisio (Wolverhampton)
Defense:
Joao Canselo (Manchester City)
Nelson Semedo (Barcelona)
Jose Fonte (Lille)
Pepe (Porto)
Ruben Dias (Benfica)
Daniel Cariso (Sevilla)
Rafael Gereiro (Dortmund)
Mario Rui (Napoli)
Midfield:
Danilo Pereira (Porto)
Ruben Neves (Wolverhapton)
Viliam Caralho (Betis)
Bruno Fernandes (Sporting)
Joao Mutinho (Wolverhapton)
Pici (Benfica)
Renato Sanchez (Lille)
Attackers:
Bernardo Silva (Manchester City)
Daniel Podense (Olympiacos)
Gonsalo Guedes (Valencia)
Rafa Silva (Benfica)
Cristiano Ronaldo (Juventus)
Dijogo Jota (Woverhapton)
Joao Felix (Atletico Madrid)
Of course CR7 is main face, but players like B. Silva, J. Felix, B.Fernandes can make a lot of damage to any squad. You see clubs where they play all are top notch.
---
Recent 5 games all ended like 1:1 or 2:1 for Portugal. Serbia will have big support from terraces of Red Star stadium. Around 50,000 spectators will make hot atmosphere, which can affect young players in Portugal like Felix or Fernandes. Ronaldo will probably be booed every time when he has ball and applauded every time when he lost the ball or when someone tackle on him. I just hope Gobeljic if he plays won't be to rough. No football fan wants CR7 injured. Referee will be Cakir from Turkey. I think he is decent ref and I hope he'll be up to the task.
---
I am looking forward to this game and hope Serbia will get something from this clash. It will be pleasure to host defending European and UEFA National League champion.