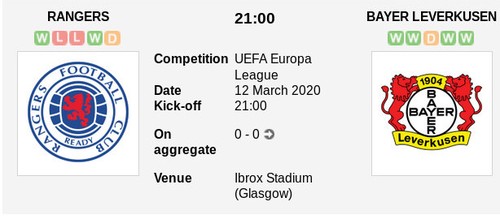 Europa League came to quarter final which bring us interesting game between Scottish side Rangers and German club Bayer Leverkusen. Odds which bookmakers are offering are quite big on any outcome. So lets look at those two sides from closer range.
Rangers
Giant from Scotland where not so long in lower divisions because of financial problems. Last few seasons they lower gap between them and arch rival Celtic. S. Gerrard's boys are second on the table with 21-4-4, 64 goals scored and 19 conceded. However we all know that this league is something like kindergarten when we compare it against top five. Gerrard said recently that he thought his players have character, but he was wrong. They won Celtic in derby, but then lose points and they said goodbye to title this season. Policemen from Glasgow managed even to lose games against such great clubs like Hearts or Hamilton Academical without scoring a goal. In last game they won Ross County 1:0. If we judge them according last results we can safely say they are out of form. Three days after this match they'll play Celtic again.

Bayer Leverkusen
Pharmaceuts are 5th on Bundesliga table with 14-5-6, 45 goals scored and 30 conceded. They are in the battle for Champions League place for next season. P. Bosz's boys recently draw 1:1 with Leipzig and won Union Berlin 3:1 and Eintracht Frankfrut 4:0. They look like very much in form and are coming from much serious league than Rangers. In last 10 games only Hoffenheim managed to win them 2:1. They won everyone else except Leipzig. They didn't only won them but scored a lot of goals like 2,3 or 4. After Rangers they will play Werder in Bremen. Main goal scorer Volland is out until end of season, but they have capacity in squad to deal with Rangers.

Conclusion
Scotland League is complete joke. Only thing worth something in that league are fans who can make incredible atmosphere and give big support to club. They are very loyal to club and 40,000 of them will be always there no matter how bad or good is club from other side. Gerrard is trying to make something of this club, but looks very disappointed. In this league Rangers and Celtic are serious, we can count Aberdeen and Motherwell like professional clubs while all rest are on pure amateur level.

On the other side is Leverkusen who is coming from very serious league, league where they don't overpay players, where fans own clubs. We saw what Bayern did to Tottenham and Chelsea who came from much better league than Rangers. We saw how Leipzig rolled over Spurs in Champions League too. Pharmaceutics draw 1:1 with them. Clubs from Germany are playing in same rhythm all game, screaming from terraces don't bother them at all, they follow template in playing and no matter if they are winning or losing 5:0 they'll play the same and do it until final whistle. Their fitness is also terrifying. Volland might be injured but, Diaby, Allario and Bailey will feast in this game!

With all of that in mind it's big pleasant surprise to see odd of 2 set by bookmakers on away side win. Do they know something we don't know ? I doubt. I think they made mistake and we should exploit this very generous gift. Lever will not only win, but will do it with good goal margin.

That's why I put 50 SCR on Leverkusen win on betscorum. You can see it here: https://betscorum.com/en-us/game/54271
This article has been written for scorum loyalty program here: https://scorum.com/en-us/betting/@scr.predictions/scorum-loyalty-program-now-not-only-for-tipsters
Contest
Feel free to write your opinion about this game with correct score and first goal scorer (in case you don't think it will end 0:0, if so just predict 0:0 ).
Rules:
1.If anyone guess correct score and first scorer right he'll get full upvote from me.
2. In case no one correct predict goal scorer, but someone guess right full time result he's the winner.
3. In case of multiple winners vote will be shared between them.
4. I'll upvote each comment with 10%, you can enter predictions until 12.03.2020 20:55 CET (5 minutes before game starts).
I say Rangers - Leverkusen 1:3 and Diaby scores first goal.