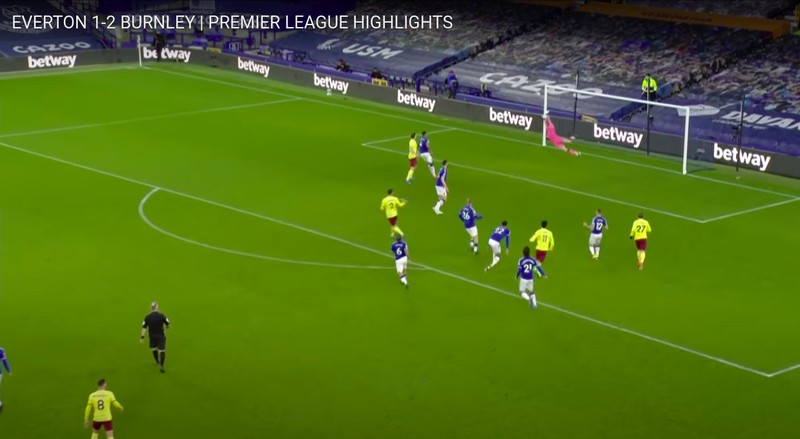 It's well known thing that fighting for survival can be very powerful motivation in football. At a matter of fact it can be bigger motivation than fight for Champions League place. That fact has been confirmed yesterday in Everton - Burnley game. Struggling Burnley won it 1:2!
After few half chances for Everton after which I thought Burnley is giving them to much space Sean Dyche's boys transformed in Da Lima Ronaldo Brazilian national squad at it's prime! What we saw was just incredible! Attacking in waves, taking ball from Everton players on their own half, plenty of chances and wonder goal! Chris Wood opened the deadlock in 13th minute with superb strike and ball ended in low part of corner of Pickford's goal. Soon after we saw second scored by Dwight McNeil. It was wonder goal, a screamer which cleared all cobweb from top right corner of Everton goal! What would Ancelotti say "rimuovere la ragnatela"! McNeil first get rid of Everton player like he is school boy, moved ball on his left foot and fired up rocket which ended where post and bar are connecting inside the goal! Screamer! You can see it here:
Burnley soon hit post and Pickford got injured after falling on chest during attempt to save that shot. Two times ball hit arms of Everton players, but Atkinson slept inside VAR room and VAR didn't check those situations! Second one looked like penalty to me. After 30 minutes of Brazilian play by Burnley Everton managed to score a goal and return into the game, but couldn't score second. Burnley hit woodwork again in second half, Vidra missed entire ball when he just need to hammer it inside goal and missed one other big chance. Calvert Lewin didn't score from few chances on other side too. Only Everton player who impressed was left back Digne. He showed some great skill in some moments.
Underdog wins, Everton made big step backward in fight for Champions League place, Burnley got important 3 points. I remember when Spurs beat them 4:0 people were saying "It's only Burnley". I can only repeat that to Everton now "It was just Burnley boys!" :) You don't need stuff to clean cobweb from goals at Goodison Park any more! Just call McNeil he'll do it for you for free! :)