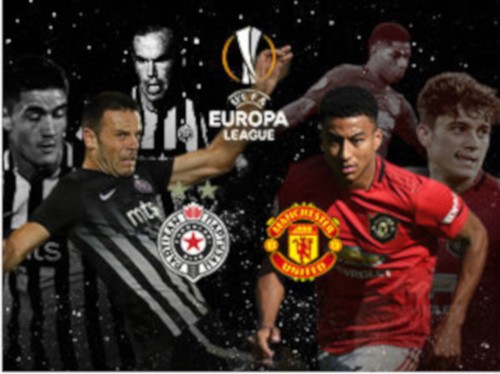 "What an excellent day for exorcism" was on banner on east stand of Partizan Belgrade stadium during game between famous and expensive Manchester United team and Partizan. Exorcism however failed because red devils went away from Belgrade with all 3 points. I must say that it was hard to comprehend this loss after all what I saw during the game, but football sometimes is not righteous sport.
United went out with pretty strong squad with players like Harry Maguire, Juan Mata, Martial, Lingard, Jones which shows that they respected Partizan more than they did AZ. Atmosphere was very good, I didn't notice any racist chant or banner, support for home side was big. United had 1700 supporters too. I really hope UEFA and FARE controllers will have no complain on fans behavior which would already be big win for Belgrade side.
United had more of the game in beginning, had one chance after set pieces, hit post after another chance. Partizan then went more in attack took the ball and hit post too, made few solid shots which went wide of goal. Then after one quick action United managed to move ball to center and make diagonal pass on other side, where their faster player enter into the box. Partizan right back Miletic was slower and decided to tackle and made penalty. My opinion is that he did tackle for no reason because United player went straight on other Partizan defender and almost already lost the ball. What he really wanted was just that tackle to fall to get penalty. Martial scored for 0:1 just before half time. It was almost copy/paste of AZ goal against Partizan in first leg. Referee did something I rarely see he signaled end of half time at 44:50 10 seconds before 45 minute. Maybe he was in hurry to toiled I thought, maybe lad had diarrhea ?!
In second half we saw Partizan dominating, attacking, making chances, shooting but without scoring a goal. United didn't do literally anything until 92th minute when they had chance but their lad missed the ball. Partizan had two penalty claims. At first Natko shot at goal and United player denied shot with hand, referee gave Natko yellow card for complain. Second was when Miletic did header and United player stopped ball with hand in non natural position, but instead of penalty Partizan get new yellow card for Miletic who complained. The most beautiful moment of the game was one from picture when big and expensive Harry Maguire tried to block Soumah's shot and end up on green grass, Somah moved near him had clear chance for shot, but shot straight in goalkeeper Romero who went out on 5m. That is Partizan's season story so far. Good play, chances but not clinical in front of goal and on other side concede goal from 1 or 2 shots on their goal.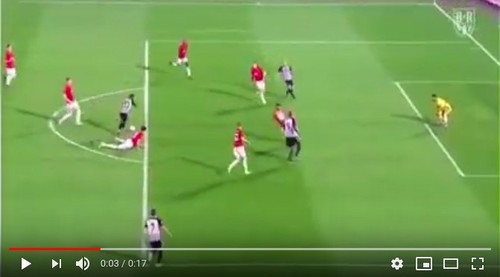 Fact that 80 or I don't know how much millions worth player and England national squad member and the best center defender ended up in grass after dribbling with 1 million worth player from Partizan was picture I will try to remember from this game. Don't get me wrong, he was good, he was main obstacle for scoring goal, intercepted a lot of passes, won a lot of air duels. Without him this would easily end with 2 or 3:1 for Partizan.
Spanish referee signaled full time at 92:50 despite 3 minutes of extra time, which is totally unacceptable. I am not saying Partizan would score for those 10 seconds, but I really would like to watch game until real end and not get final whistle before time. I don't know what kind of diarrhea sick referees UEFA is sending, but signalling end before real full time is disgrace. I feel he was afraid for United. :)
After the game United manager said that Partizan pressed them in second half, they defended well, that Partizan should be proud of squad and support they have. Savo said he has nothing to complain to players, they did 100% of their capabilities. He added reward did not come tonight, but it will come once when we need it the most.
Situation in group changed, AZ won Astana with 6:0, they are second now, United is first and if in next leg AZ wins Astana away which is very likely and if Partizan lose at Old Trafford which is also very likely Serbian representative would need wins in Holland and against Astana to be second in group. Winning AZ away would be heavy task, but not completely impossible. There is still hope and everything still depends on Partizan players.
Important fact is that Partizan playes gave 100% of capabilites, that Partizan has style of play, can create chances and move closer to model of play from clubs from Premier League which is goal of coach Savo Milosevic. What else to say for the end except it was nice day(night), but exorcism failed as Red Devils ran away with all 3 points.
Tell me your opinion about this penalty claim please. I might be to biased when watch Partizan, but I think it was penalty. Javier Estrada caramba !