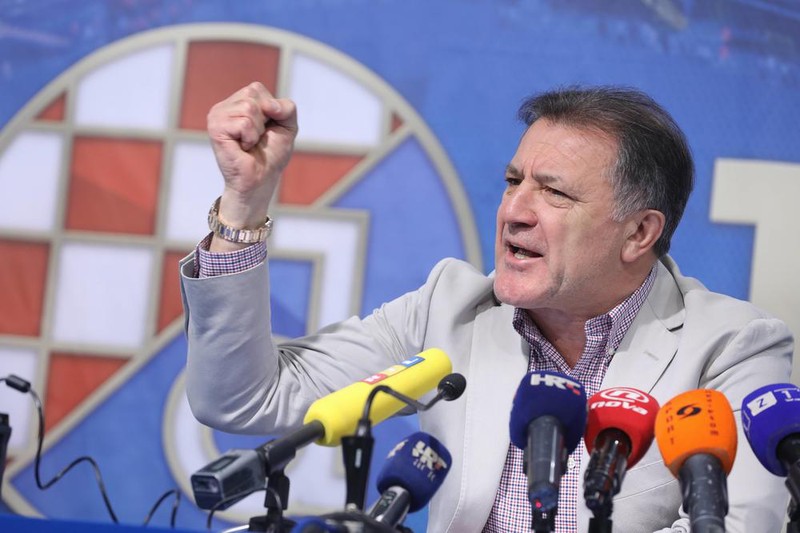 Owners of different clubs have different strategy when buying or selling players. Some of them will go and buy the best and break world transfer records and some will rely on great scout network and youth academy. There are few clubs who had such G.O.A.T as football executive like Dinamo Zagreb from Croatia. Welcome to story about Zdravko Mamić - "Maminho". Nickname should point out that what is Brazil in football that is Mamić among football executives and that is the best of the best.

He began his journey by selling styrofoam on Dinamo stadium Maksimir in times when there were no seats but pure concrete. He made a deal with officials in Dinamo to sell styrofoam to crowd and after the game he picked it up with 80% in good condition and put it on safe place to sell it again on next game. He replaced 20% of broken with new ones obtaining for cheap price. Then he was travel selling agent with the best results in his company. Then he become chairman in Dinamo Zagreb.

Slaven Bilic ex Hajduk Split player described what he did from Dinamo and believe me Hajduk and Dinamo don't like each other... He said "I was in car going on some football seminar in Umag when my mobile rang. It was Harry Rednapp asking me what do I think about Lovren? Is he good ? Is he good like Ćorluka ? Slaven replied he's good, he is not like Ćorluka at the moment, but he might be better than him in future. Harry said Ok but they ask 12 million that's to much! Slaven replied then don't buy and Harry said If I don't buy Lyon will..." Slaven then said at that time Lovren had with only 20 games in Dinamo and 1 half time in national squad friendly game and two giants are already fighting for him offering 12,000,000 ?! At that moment I found out what Mamić made of Dinamo. Hajduk sold players for bargain at that time like they do now.

In his recent interview Mamić said Tottenham owner is easy to deal in big sums, but at later stage Mr. Levy make tricks to take at least few thousands Euro on various things... When Modrić went to Tottenham Zdravko asked Levy for couple of shirts for his kids and Levy sent him with invoice on full price... LoL... Other example from his interview is when Arsenal representatives came wanted 2 players for 10 million. He took them on dinner and said "I can give you birds milk and everything, but we can't speak about business ever again." Nice one for "insulting offer". LoL
He claimed that he brought 1 BILLION OF EURO in club from transfers and payed tax for all of it to city of Zagreb and Croatia. He didn't do it abroad to pay less tax because he's patriot. Then he tried to takeover Dinamo which was idea not popular in ex communist countries where football clubs are "public property" and good mean for washing and overflowing public money in private pockets. They organized rigged process against him for few transfers and despite Modric's and other player testimony court decided "They were not honest" and sentenced him on 6 years in prison. However football CEO G.O.A.T. escaped from Croatia to Bosnia and is on freedom because that "act" does not exist in Bosnian law. Shell I say that Dinamo is in minus now, not so big like Partizan or Red Star (more than 30,000,000) but in minus for first time...

If someone brought 1 BILLION OF EURO in some eastern European club from country with not so strong league that is big success. Even if he took few millions for himself from those transfers he still deserves monument near Maksimir stadium and not jail time.
He's ordinary man who likes to celebrate, who does not hesitate from swearing on public press conferences, but man who definitely knows how to do business. He has 100 young players in every moment tracking them, helping their development etc... I remember when Dinamo won Ajax he went on airport and made some stripping show with Serbian folk song from Miroslav Ilic ... :)
He's been thrown to the sea in Bol-Dalmatia by I suppose jealous helpless Hajduk Split fan who forgot when his club was first on table last time.
Here is his full recent interview made from his current location at Herzegovina:
My opinion about meter is clear. State of Croatia should withdraw all charges against him, he was the best ever football executive in Balkans whose players from Dinamo are backbone of national squad which was second in the world. I'd love to see him in charge of some club here instead of ignorant who just make club debts higher and higher.
Do you know better football executive and bigger G.O.A.T. ?

Justice for Maminho! :)