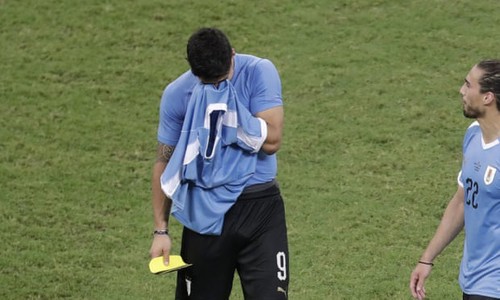 Uruguay was big favorite to win yesterday quarter final game of South American Cup against Peru. They have squad strong as ground with players who play in the best clubs in the world like Barcelona, PSG, Juventus, Athletico Madrid etc... Names like Suarez and Cavani are for veneration. Other side Peru came tho this game after shipwreck against Brasil and lost of 5:0. Everything looked on Uruguay side. Well everything except VAR!
After few minutes in beginning Uruguay started to control ball and to dominate this game. They were constantly in attack, but unable to score goal. Pardon they scored 3 but VAR disallowed all three because of offside. First time it was clear offside and Cavani's celebration of goal was canceled. Other two disallowed goals were very close to line where question was if legs or chest of player counts. Anyway tree merciless VAR decision denied goal for Uruguay. Last one who felt wrath of the VAR was Suarez as his goal was canceled too. That made Uruguay players more and more nervous as game progressed toward the end. Peru players used every moment to lay on ground pretending serious injuries which is legitimate tactic when you face far better opponent. They tried counter attacks few times, but Guererro was stopped by Uruguay defense aces. Basic strategy was time wasting and waiting for penalties.
Final whistle finally came and everything was ready for penalty shot out. First Uruguayan player who took responsibility was Luis Suarez (aka Nosferatu because of habit to bite opponent players) from Barcelona. His poor, lukewarm, half high not close to the post penalty has been read by Peru goalkeeper who dived in same side of goal and easily deny his poor shot. Then we saw his "Nosferatu" face. It was like Count Dracula in one movie when he smell neck of victim and have interior fight with himself not to bite because he wanted to save victim for later. Maybe it is just my imagination but I think I saw his mouth trembling ready to bite goalkeeper or at least referee, but he somehow restrain from new big biting scandal. He helplessly watched how everyone else score a goal until final shot which sent Peru to I would say non deserved semi final.
This penalty miss brought Suarez to list of the best players of all times, because everyone of them missed at least one very important penalty. That happen to Maradona in Italy 1990 against Yugoslavia, the best player of Yugoslavia at that time Dragan Stojkovic Pixi on the same game. That happen to Messi in one of previous Copa America games after which he wanted to quit playing for Argentina. Italian legendary defender Baresi missed it against Brasil in final of World Cup in USA in 1994 too. I think Roberto Baggio did it that too. Ronaldo missed one in last World Cup in Russia. Real Madrid legend Predrag Mijatovic from Yugoslavia missed one on World Cup in France against Netherlands too. List is big. That happen to the best. Now you wrote yourself between the best players. That is for consolation.
This article is for Happy Moan-day blog contest.