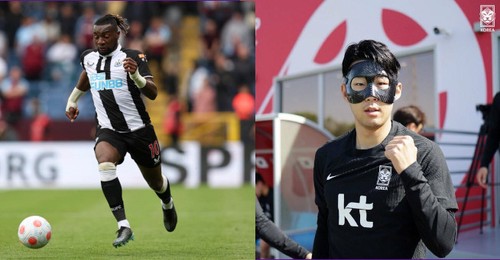 We are still in top 4 on the table, but Arsenal being on first place is quit upsetting. We Spurs need to do something to change that don't you think ? How with all those average defenders when we need to score 4 goals to win game against Leeds! Yes you are right dear readers, we need to score 4 or more to win a game. Before you tell me it is impossible I must tell you it is possible and i know the way!!!
Newcastle showed they are capable to be in top 4 even without their best player Alan Saint-Maximin. Their defense and goalkeeper, Bruno, Wilson and Almiron are that good! So there is a chance they will think about selling ASM if right offer comes! Ah joker he is playing on same position like Son, are you crazy do you want to change Son with him ? Why would he accept to sit on bench otherwise ?! He can't last for more than 1 half! I already hear your screaming voices! Relax I have a plan! I know what I am doing!!!
So we concluded Newcastle would probably consider selling him. Did you notice that Son Heung-min scored only 3 goals in EPL this season and all 3 in one single game against Leicester when he came form the bench ?! Ahhhh you start to understand now ? Points of puzzle are connecting aren't they ? Yes I mean exactly that!
Son told in interview he played all games for Spurs, he's tired, his body need rest, he rested only 10 days before World Cup due to injury etc... My solution is solution for that too!! Here it is and remember you read it first on Scorum platform !!!
Antonio and Fabio need to call "Starwars princess" from Newcastle Amanda and give her offer for Frenchman. Then they should call ASM and tell him he will start and play every first half of every game in Premier League and Champions League on his natural position and that he need to spend all his energy in that period of game! Then at half time Antonio will bring Son in and he will score 3 goals like against Leicester!! With Kane, Bentancur, Hojbjerg, Deki Kulusevski, Ivan Perisic , ASM in first half it's fair to assume we will score at least 1 or 2 more goals that's 4 or 5...
With 4 or 5 goals scored even with average defenders we would probably win the game with 4:3 or 5:2 and get all points available in something which would become unbelievable season which would be remembered forever... We all love those 4:3 games like Spurs journalist told to Conte after Leeds! Who could accuse us for playing "boring football" after ?! That way we could become easily very popular club soon after with big fan base all around the world.
If we add to that serious right wing back who actually know how to cross and hit the target, one serious central defender and serious 1/1 substitute for Deki Kulusevski we're going to become grinding machine to strong even for Champions League! :)
Gotcha!!! COYS!
Oh one more thing. Do you know Marvel is introducing new superhero Super Sonny ? Look at that picture, only superheroes are wearing masks everyone know that... :)