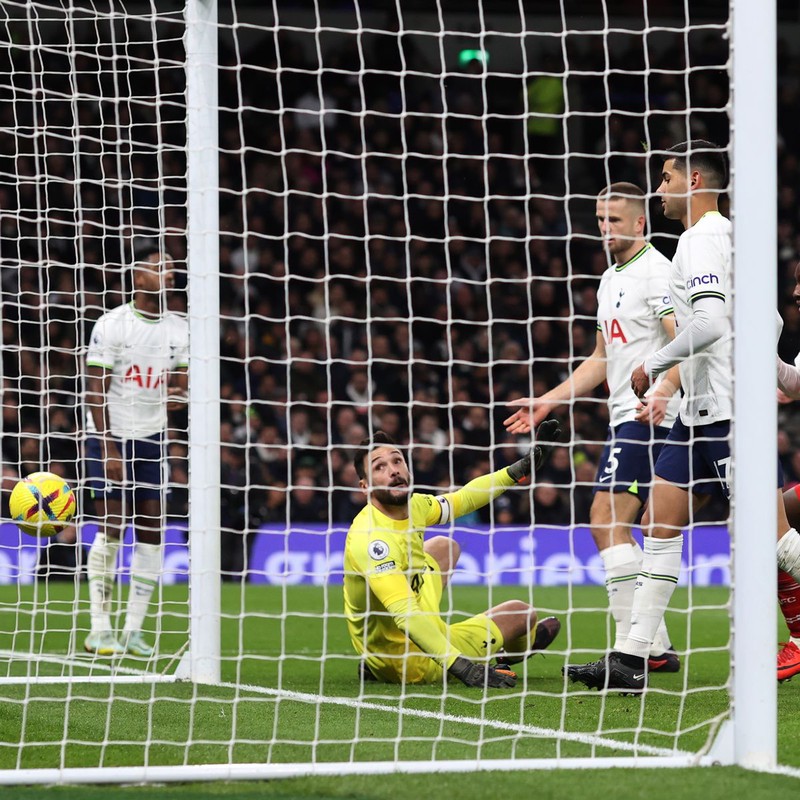 Saka took the ball on his side, did what he wanted like in entire game near Sessenon, tried to make cross, but Arsenal man of the match Hugo Lloris diverted ball in his own net for 0:1 and moral drop in squad. This is not the only fantastic thing he did. Before that he "skillfully" passed short ball which lead to dead chance or sitter for Nkentiah who for some reason kicked the ball in him. After that he sent sick high ball toward out toward small sized player, just like against Newcastle, who of course lost duel and we saw another save who is alive attack of visitors. Of course team moral dropped, fear came in, legs start to shake and like "ENIC boys" are saying they battered us in first half. Arsenal used this had post, one or two big chances to score and finally scored second with long distance attempt by Odegard. Kick was good, near the post, but distance was big and I can't help but think Hugo Lloris should do better on that shot just like defenders. Situation happen of course after he Lloris sent long high ball, we lost duel on center ball went forward, our defense was not set up and Odegard used this plenty of space to shot and score. Ladies and gentleman Hugo Lloris is not for football anymore. He is just for some wine cellar to drink wine!
We had two big chances but Korean slacker carelessly hit Ramsdale with ball in one on one situation. Other was header attempt by Kane near the end which Arsenal goalkeeper deflected to corner. Referee didn't even need to do anything but not giving Partey clear yellow card for deliberate handball on center which stopped our attack.
Second half brought second Tottenham, who battered Arsenal, should be 2:2 in just first 8 minutes of second half, but it didn't because Ramsdale saved everything or our players missed everything. Kane, Kulusevski, Son, Sess, later Richarlison all missed at least one solid opportunity they usually convert into goal. Arsenal had one good attack but Nkentiah hit Arsenal player on Tottenham goal instead of net.
Priorities in this transfer window just changed. We need urgently normal goalkeeper on goal because with this wine loving Arsenal goalie we will hardly beat anyone. Another priority is to send Sess back to Championship where he belongs, because Saka made him look like ox, and another is to sell Korean slacker Son Heung-min who deliberately doesn't want to play football for our club anymore. We need to sell him while we can get penny for him and bring serious replacement. Mitoma from Brighton currently looks like developer of football for this Korean. Only after this we should change right wing back with someone better than Emerson Royal.
Of course ENIC is not going to do that, they will just sack Conte, bring in some non demanding yes man and continue to suck money from world's 10th richest club in the world which doesn't have 45 million to pay release clause for Porro. Who can guarantee they - ENIC are not paying or ordering this irritating non football mistakes to make fans nervous against coach so they can sack him and bring another cheaper one. Remember how they sacked Jose few days before League Cup final to avoid paying him reward in case he wins trophy ?! Do you remember mistakes then and way of play in Zagreb or way of play in last weeks of Poch ? It was same like this season in first halves, coaches were never problem here but ownership and non satisfied players in squad. You need just one or two slackers in team and you will look bad in every game. If Conte is guilty for anything he is for not noticing Son's lack of commitment and wish to play for our club.