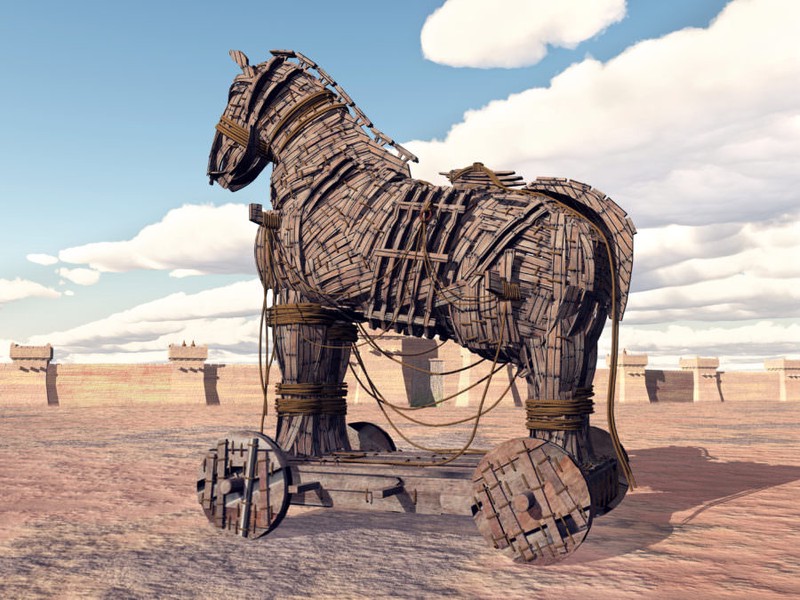 Bribed journalists, youtubers and some rival fans are in big offensive chasing each other trying to tell audience how serial winner like Antonio Conte actually doesn't know his job, how he is no manager, how bad he is etc... He will be sacked by Despot Daniel for telling the truth about club. Auctions about name of new managers are already holding, but big "attacking managers" like Poch or Enrique are not coming despite they are free and available. Why is that ? Where is the problem ? Why Rayan Mason need to disgrace against Newcastle, Man United and Liverpool with this non managable bunch of selfish individuals ? I'd love to see one of those two playing Man City all out attack type of football with Dier on center chasing opponents going into counter attacks against Liverpool, Manchester United or Newcastle. That would be real show and spectacle don't you think ?
If we are not joking it's obvious Daniel Levy and ENIC don't want Tottenham to win anything. If that's not the case they would not sack Jose Mourinho few days before final game because he wanted to rest some players in EPL to try to get League Cup. If they want to win something they would bring serious defenders in this squad long time ago. If that was the case they wouldn't offer ENIC Dier new contract. Guy was dead laughing when someone told him Tottenham don't win trophies. Hahahahaha very funny for Spurs player who is marking team mate on goal line of own goal. Hahahahahha
I investigated a little about Daniel Levy and find out that there were some shops and brand he and his brothers inheritet Mr Byrite. Then in some point of time they change name into Blues. Strange for life long Tottenham fan. Why not lillywhite or navy blue ? This is what wikipedia has to say about company.
Blue Inc has its origin in a company founded by Abraham Levy which began trading as A. Levy & Sons, a hat shop in Stratford, east London.[1][2] The company traded via a number of brands, chiefly as Mr Byrite, a chain of discount stores selling menswear. The company expanded rapidly in the 1980s, and was then run by the three children of Barry Levy – Jonathan, Robert and Daniel (the last later became known as the chairman of Tottenham Hotspur).[3][1]
Blue Inc as a brand first appeared in 1997, aimed at younger men who desire an alternative and low-priced image combined with an eye-catching street look. It had a flagship store on London's Oxford Street, while the main UK chain is based in principally-located town and city centres, and major shopping centres. Traditionally a menswear retailer, Blue Inc now also offers womenswear, boyswear and girlswear ranges within selected stores.
There is also another fun fact. You can see it on pictures bellow. Before Lord Alan Sugar took over Tottenham you see normal results against Chelsea.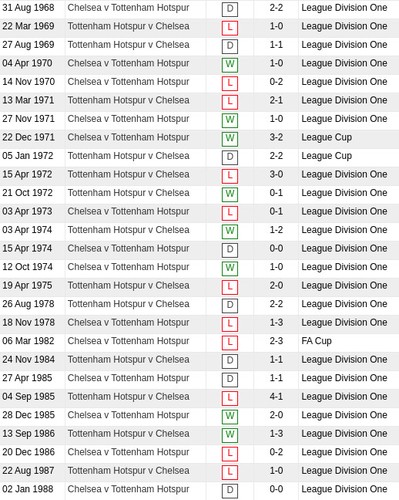 When that person took over club, you can see only loses against Chelsea which were struggling team fighting to avoid relegation or at the best very average team during 1990ies.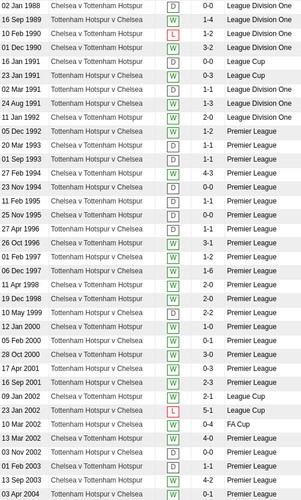 Then fans started to chant Sugar out and he found "Life long Tottenham fan" Daniel Levy to take over it with ENIC and losing steak against Chelsea continued with little stop around 2018.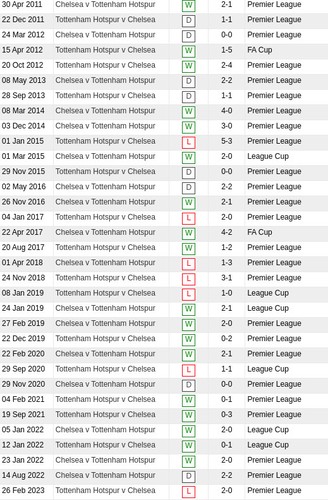 Wikipedia said first Tottenham game attended by Daniel Levy was match against QPR. However in interview he told it was game against Leeds. In the most recent interview he told it was game against Aston Villa. Very interesting. Poch won Chelsea 3 times in 2018 and got sacked in 2019. Jose won Chelsea in League Cup in his last season too. Conte and his assistant coach Stellini won Chelsea 2:0 and Conte will get sacked these days. Is it win against Chelsea that upset Tottenham owner ? Sheffield United game came after this win and car went downhill.
There is also another fun fact which is he is looking for ex Chelsea managers to replace ex Chelsea manager. According to some sources he is thinking about Touchel. Oh really ? After that brawl in Chelsea-Tottenham game ? :) Why not John Terry or Frank Lampard ? :)
I don't know for sure, but I doubt he is Tottenham fan at all. If someone shows ambition not to win anything, readiness to stop club from winning trophies by sacking managers I have every reason to believe he is not Tottanham fan. Owner of course doesn't need to be a fan before buying. Arabs surely were not fans of Manchester City or Abramovich of Chelsea, but they were ready to put their money on the table to make successful team. This one is as it seems ready to take money from the club and fans to build buildings. He is also not ready to listen managers and bring them players they want. Instead of doing that which is basic duty of club owner he is buying players on his own because they are on discount and not because coach or club need them.
He also took loan from the bank to build new stadium just like they took loan to buy club and club has the biggest debts in Europe or even world and is making accounting loss of 50 millions despite the highest ticket price and record revenue.
What are we dealing with here ? Is he a Trojan Horse put in place by Alan Sugar who maybe wanted to take revenge on fans who chanted against him after one pathetic decade by appointing someone worse than he was ?
I'd like to hear from elder Tottenham fans did they actually see Daniel Levy on stadium before 2001. and take over ? If he was regular and big Tottenham fan there must be some witnesses who are still alive who saw him on some games ?
Fan or not his time has passed and this serial loser and organisation behind him need to sell Tottenham to some normal owners. Fans should just make some big noise against him and buyer will show up. Maybe then we can have record against Chelsea like before Sugar and Levy ?
#EnicOut #LevyOut