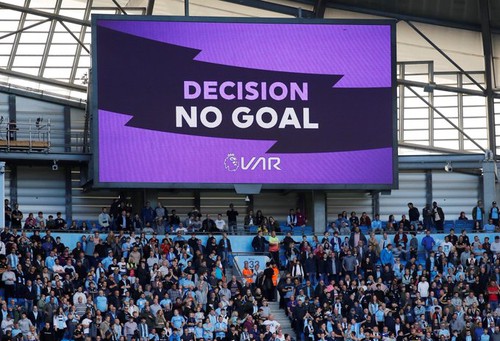 Manchester City scored goal against Tottenham again in injury time just like in Champions League, but VAR checking said it was handball before end of action. It was very strange play of luck and destiny. Same rivals same stadium, goal in injury time VAR and no goal. Guardiola was furious, he just settled things with Sergio Aguero and then saw VAR and no goal.
City was much better during entire game, had ball, cannon crossings from City right side did not stop until the end, they could score a lot more than 2 goals, but at the end result was 2:2 thanks to Lucas Moura goal. Man came in before corner jumped and won duel with Walker from City and sent ball into the net.
Tottenham players could not assemble with the ball, could not hold it for more than 10-15 seconds. While on City left side KWP fought with Sterling and stopped him until some extent (not when he escaped him when City scored first goal), on other City right side Rose did not stop single City attack. I must confess I was afraid he will end up pregnant after this game when I consider what B. Silva did to him and other Spurs player who should defend Spurs left side. They drove them like babby stroller. It is hard to explain but bombardment of cannon crosses from that side did not stop until the end of the game. First attack that Rose stopped was in 81. minute when he intercepted ball with head, but Silva was already out. Thanks God N'Dombele blocked some attempts there near the end. That guy Rose was always to far away from player he should stop or block his cross. He was really dreadful. It is true miracle Spurs did not concede 5 or more goals. Fortunately center backs was up to the task. Even Sanchez was good.
Spurs failed to organize few counter attacks on 2:2 near the end. Eriksen had ball on center, but failed to pass to H. Kane on right flank on time and opportunity went away. He was to slow in that situation.
All in one it was panic & fear & dread, but at the end VAR decision saved Spurs from well deserved loss. It is not far away from truth what Neville said VAR was the best Spurs player tonight. Man (device) of the match! :)