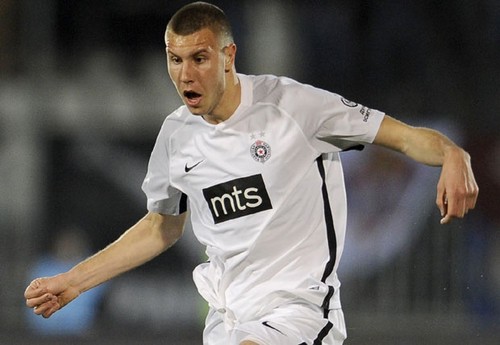 According to Serbian web portals whose source was "Tutto sport" Italian giant Juventus is interested in singing 5 year contract with young Serbian defender from Partizan Belgrade Strahinja Pavlovic. According to source transfer of 18 year old and 1.94 cm high defender will cost Old Lady 5 million euro. Lad born in city of Sabac should have yearly wage of around 1,000,000 euro and should sign contract on 5 years. Italian portal describe him as valuable left leg player who is mix between Nemanja Vidic and Alessio Romagnoli. Person behind this possible transfer is well known Balkan football manager Fali Ramadani.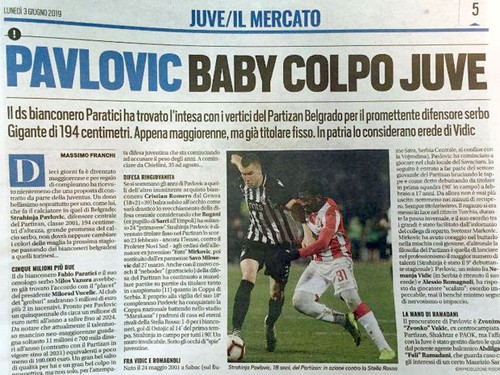 Strahinja will continue line of ex Partizan players who played in Italy like Nikola Gulan, Stevan Jovetic, Adem Ljajić, Matija Nastasic, Dusan Vlahovic, Nikola Milenkovic etc... I am little skeptical about how he will adapt to Italian league because Serie A is far more serious league than Serbian league and Juventus could be to big club for jumping straight in from semi amateur Serbian league. According to source they don't plan to send him on loan, but to push him in hot water of first team football. If so that would be very brave move from club who wants to win Champions League next season.
This transfer will help Partizan Belgrade to get necessary money for next season, because they plan radical changes in squad which did not play to well in last season. It is interesting that one ex Partizan and Juventus player Zoran (Bata) Mirkovic was one who introduced this young player in first squad in Partizan Belgrade. He had good teacher and I hope he will play good in Italy.

Transfer job has been described as finished because man from Juventus Fabio Paratici agreed on everything with Partizan directors. Strahinja Pavlovic will remain in black and white shirt but one of Juventus. Good luck!