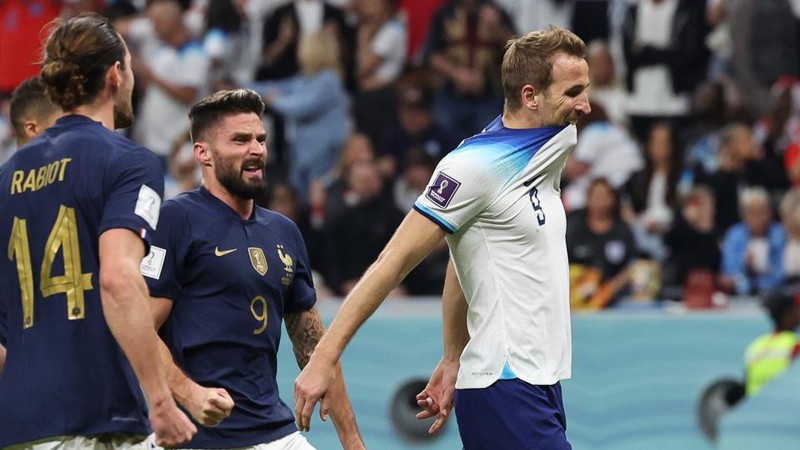 Thery're coming home, they're coming home England's coming home... France beat England 2:1 and threw them out of World Cup. Main reason why result stayed 2:1 was Harry Kane who missed penalty near the end. He didn't only miss penalty but kick ball like some novice or side back player 1 or 2 meters above crossbar. What was he thinkng ? Why did he do that ? I have no idea. He was the most abused England player on social networks before that, I can only imagine what is he receiving now. I feel so sad about him. He's not however the only guilty for this.
Other Harry from Manchester United first missed clear header in front of French goal and then old grandpa Giroud escaped in front of him and did header for 2:1. We can talk also about Jude Bellingham's performance because he let ball go under him for 1:0 in first half and made one dreadful pass leading to dangerous counter attack. He wasn't very dangerous in front of French goal except one solid strike, but it went close enough to Lloris to save it. Saka who was good in this game also didn't score from one very good chance in second half...
England looked like in control, had more chances, first goal scored by France came after clear foul over Saka in attack which blind linesman didn't signal ?! In action following that France scored goal... There was one penalty or not penalty situation on edge of the box when Harry Kane was clearly fouled, but foul was not given. Then VAR checked and somehow decided it was outside the box. Not sure where his knee was in moment of clash, but not to give that like foul was criminal act by same linesman.
Southgate didn't give chance to Maddison despite Bellingham didn't play good. He was shaking from fear of big game and it was easy to see. Maddison or someone else in midfield should come in instead of him in last part of the game. So everyone above can be considered guilty, but all hate will go to Kane who did so miserable penalty... First which he scored was also not good one, half high ball on half way from center of goal and post is what goalkeepers love the most, but Lloris went to other side. He looked frightened too.
For the end I'd say even if he scored that second penalty England defense would find the way to concede third goal in extra time. As soon as they equalized on 1:1 then drop deep in low block, chances for France happen to often after that, Pickford saved two dangerous shots but third was from very close range for 2:1. They would probably come back in low block on 2:2 and concede again in extra time.
Probably two disgusting teams like Argentina and France will decide about new world champion. They have no respect to opponents and I hope they will be knocked out in semi final. Let's see what is going to happen. In this sad evil there is some good which is that Kane will return to Tottenham not injured. We Tottenham fans still love you Harry Kane.