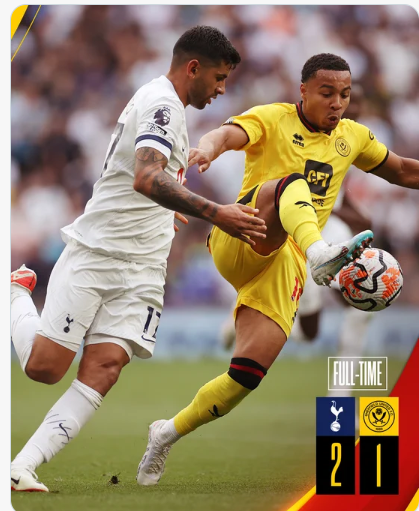 Tottenham won mighty Sheffield United with result of 2:1. It happen after so bad and disconnected game that I was unable to be happy after it. From minute one it was evident Spurs players are not going to play serious. They passed to fast when it mattered, they shoot to weak from some chances and half chances like they want to train and give self confidence to opponent goalkeeper. They showed also selfishness in some situations. They probably think they are to good and don't need to move much to win this game. It was big illusion.
Away side scored first goal in 73th minute when Hammer shoot from deep inside the box and Spurs players failed to block him. His shoot ended in far away corner for 0:1. Only after that coach Ange Postecoglou made changes and bring in some players like Jonson, Emerson, Richarlison and Perišić. Last two made crucial role in 98th minute. Croatian did cross in first post and Brazilian taped it in inside the goal from around 5m. Sheffield goalkeeper deserve credit for it just like Ivan and Richy because cross inside 5m on first post should be his, but he slept in the middle of goal. That goal shocked opponents and Spurs got them on surprise as Richarlison passed ball to Kuluševski in 100th minute and Swed was not blocked first time during this game. He kicked the ball with his right foot, ball somehow passed block attempt and ended inside the net.
I am happy because of win, but I am so angry after this display that I was unable to celebrate goals. This is not how football should be played. Maddison was very bad, I never watched him playing so bad since he joined Spurs. Solomon was some kind of threat in first half, but passed few to strong balls, didn't shot good from promising positions, but created some promising situations inside the box with some passes. Only him and Bissouma were some kind of threat in first half. Kuluševski has been blocked I think 100 times during this game. Fact that he scored didn't change that fact.
Credit deserve only Richarlison and Perišić. I am glad Brazilian scored goal, I am happy for him, but if goalkeeper did his job on cross he probably wouldn't. Goal and assist he surely deserve credit for his performance. When it comes to stabbing ball on head after cross he is better than Son for sure.
This should be "the best start of season" after legendary coach Bill Nicholson in 1965, but I am sure Tottenham under Bill played far far better than this. I am sad because this showed nothing changed in mentality of Tottenham players, they will underestimate opponents in this season, they won't play some games just like in previous seasons, they simply didn't played serious football today. Fans who expected probably win of 9:0 today are more than happy with this win, but if players plan to play like this vs Arsenal or Liverpool I can tell you they will concede 5 with ease in each of those games.
Shameful celebration after this win didn't miss. It was like they won Bayern Munich or some club of that range. Win is win, but to win like this after such non performance, versus such team like Sheffield United at home is disgrace.
All you need to know about this game and how other players played is fact that man of the match is Richarlison who came in in 80th minute.