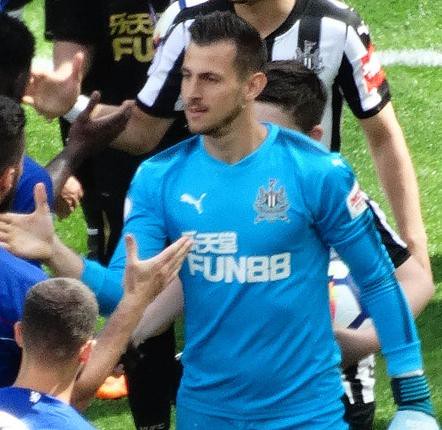 Almost all pundits already counted points to Leicester in front of Leciester Newcastle game, but football showed them why it is so exiting sport. Champions League contender was ran over by Magpies. Steve Bruce prepared that team so well for this game. They looked like hungry tigers. All of them! Effort, fight, skill everything was on highest level. However one man deserves standing ovations for his I'd say performance of his life. It's goalkeeper Martin Dubravka!
It's not secret Newcastle always had top goalkeepers since Shay Given times. However I can't remember when I saw performance like last night. He denied so many chances for Leicester that it's quite unbelievable. All sort of shots from all positions, close, far away, under bar, in corner, or deep passes came to G.O.A.T. on Newcastle goal. He brought Vardy, Ndidi and other Leicester players to altered state of mind. What he saved near the end was against any law of physics. He was in one corner of goal and then suddenly appeared on other post to deny Leicester goal! Like some type of Marvel flash man.
It's pity game was played without fans because otherwise I am sure there would be standing ovations for this Slovakian goalkeeper. He made me typing on twitter altered version of Bony M. Song Brown girl in the ring:
Martin Dubravka tra la la la
There's Martin Dubravka tra la la la la
Martin Dubravka tra la la la
He looks like G.O.A.T. on the goal.
Show me your motion tra lalala...
G.O.A.T. show me your motion...
Credit to C. Wilson who scored two goals, to Arsenal loanee who scored first so skilfull, credit also to Bruce for this tactics of hungry tigers running in counter attacks. I wrote it would be mistake to appoint him two years ago, but he shows real class in some games. He's doctor of football. Removing Joelington showed what Newcastle can do with someone better on his position and when all are fit and ready and well motivated. However clear super hero was 32 year old Martin Dubravka!
Goals he conceded were rocket under the crossbar from close range and one ball which passed defenders who should block it. All other ended by Dubravka saves! I think he deserves pure 10 mark for this unseen performance.
He even made Alan Saint-Maximin jealous to type on twitter please get in bus lads! I'd like to see celebration from Newcastle dressing room after this victory. That must be rioting one!
Giving 4 to member of top 4 away is awesome achievement. It's very serious club which maybe need one commander of defense to become more stable.
Congratulations and credit to Bruce and Newcastle! I'd like to see this song on last home game at Newcastle. Flashman deserved that for this! I need to watch those saves again on highlights... Can't calm down one day after. Unbelievable!
At 10:45 in this video you can see "southern fruit" (banana) for Vardy.
https://hofoot.elhighlights.com/embed/1lvk859WSF1HB
Save from injury time is here:
It was his 100 appearance for Newcastle United. Well done Hesco!