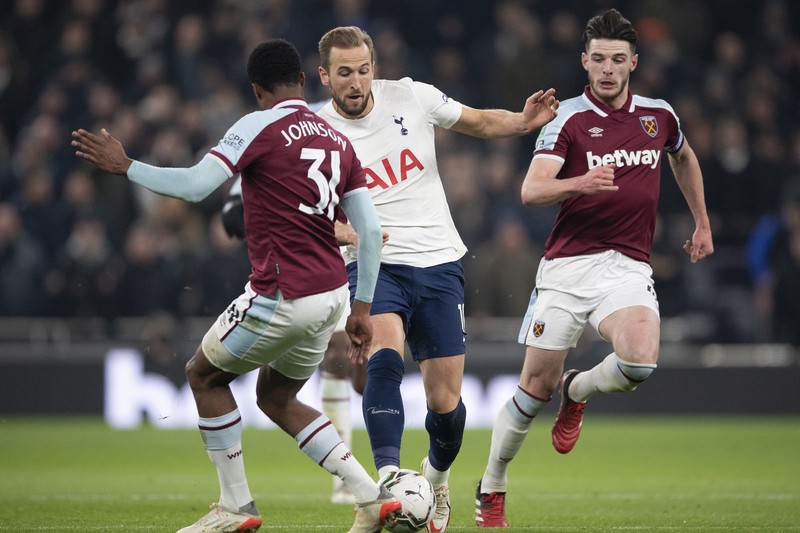 West Ham and Tottenham played yesterday and result was 1:1 draw. It wasn't nice game to watch, but since I predicted and hoped for exactly that result and when we count some big chances hammers had I can't be unsatisfied with final result. However I can be very non satisfied with performance of Tottenham players. It should not be called performance but training of Hugo Lloris in sending passes and dribbling. I don't understand when back three return ball to Hugo expecting from him to act like play maker. That happen to many times for my taste.
It looked like Tottenham is in control, had little more of ball possession and when one lightening counter attack lead by Kulusevski and Kane ended with own goal in front of Son for Spurs lead 0:1 it looked like North London club is on good way to grab all three points. However in second half West Ham made very nice action after out when Antonio did superb assistance towards Tomas Soucek who scored easily from close range. West Ham had three big chances. One clear shoot from good position inside the box went over crossbar, in other two players had chance to make clear shoot, but both let ball go thinking other one will shoot and third near the end when Richarlison clearing attempt was blocked and caused shoot attempt from the ground but ball went paralel with goal line and was far away from West Ham players. Tottenham had few too, Sanchez attempt over head was the closest but ball went wide, Spurs got few attempts blocked in last moment too.
Yves Bissouma played first full game in Tottenham shirt and he disappointed me. He lost dozens of balls, made few promising attacks for West Ham, but way how he got yellow card in the middle of first half was very annoying. Foul on center blown by referee and he throw ball in anger to the ground and get yellow. Only idiots receive yellow cards in that part of the game for that. Declan Rice fouled Hojbjerg near the end of first half and it looked like very big injurty, but Dane managed to end this game. He had his moments before West Ham goal when he signaled to the bench something substitute me, don't substitute me, my boot is destroyed etc.. It was 5 minutes of overexertion before he finally changed boot and soon after we conceded a goal. Son was again off pace and out of form, did Lo Celso style corner and Dele Alli's style of play. Kane was ok, but couldn't do header between tall West Ham defense, Kulusevski was ok in first half, but bad in second. Only Ivan Perisic looked like a player who can actually do something.
There was situation in first half when referee gave Tottenham penalty for handball after Ivan's cross and Kane's header, but why the hell Spurs players turn around and signal it to referee instead of worry where is the ball and try to play after ? VAR decided it was head to hand deflection and not a penalty after 5 minutes of watching and compensated only 4 minutes of added time at the end of first half. Reason more for more transparency and two clocks one showing minute of play another how much time referee counted for stoppage time so far.
Very bad performance, yet another lucky point, yet another prove we are not serious tittle challengers. West Ham who also didn't play good and looked like broken team in first half was better than us in terms of chances created. They had also one post in first half. Next rival is Fulham with angry striker Serbian Aleksandar MItrovic and performance must be better than this.