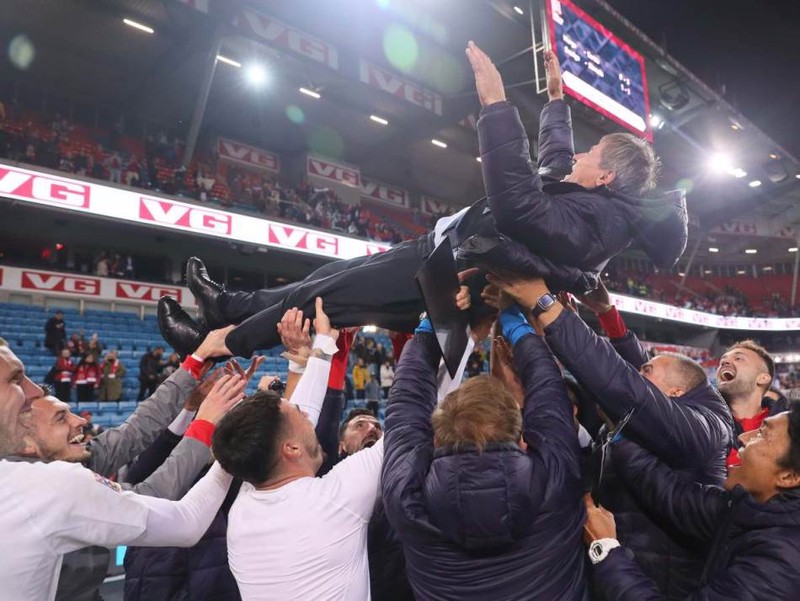 It was big day for Serbian football, national squad won Norway away 0:2 after dominating performance after which we can only applaud to coach Dragan Stojković - Piksi. Serbia promoted to tier 1 of European football with best national squads on continent!
Juventus and Fulham strikers Dušan Vlahović and Aleksandar (on fire) Mitrović scored goals for this big win, left central back Strahinja Pavlović played like he's Christian Romero, goalkeeper brother of well known Sergej Milinković Savić had also two great saves. Everyone played good, but one other man should be in focus. It's coach Dragan Stojković Piksi or shell I say Serbian Antonio Conte ?
Beginning of match was disturbing with big chance for Norway after just 20 seconds, but our goalkeeper saved net with extraordinary save. We need 20-25 minutes to come back from that shock and to impose our recognizable play of short passes and tall Norwegians just didn't have a chance to answer on it just like few years ago in playoff qualification for Euro.
Piksi setup tactics similar like Conte with 3 central backs, two wing backs outside, 3 midfielders and two strikers upfront. We could score more than two goals, Norway goalkeeper made 2 big saves like Vlahovićs bouncing from the ground header and Mitrović's header. Radonjić had couple of chances in late stage of the game too.
I never thought our national squad can play this type of exciting football, but it looks it can under Piksi. Ex football player from 90ies who was coach in Japan for long time and was great midfielder from whom you couldn't get ball without fouling him is really superb national squad coach. We didn't have such for a long time.
His statement after the game was "If long balls will defeat pass play and skill then I don't know anything about football!". One his other statement "You can win or lose in football but you must always get applause from the crowd after match."
My opinion about our squad is that we have enough firepower in attack with Mitrovic ,Vlahovic and Jovic. We have enough creativity with Tadic, Sergej MIlinkovic Savic and Kostic. We have decent goalkeeper in Rajkovic and Sergej Milinkovic. If we only have better central defenders we'd be very serious. Pavlovic showed yesterday he can be serious player. He is only 21 and played really really good last night.
We should be excited in front of World Cup. Group with Brazil, Switzerland and Cameroon is heavy. Play against Brazil is honor and I think we can come on top against other two squads and go through. That would be success. I can't imagine myself if "crazyness" (Mitro's goal) happens on 0:0 against Brazil. :) I can also see Piksi coaching some serious club in Premier League soon after that. He knows knowledge and have charisma.
Mark my words Dragan Stojkovic Piksi is Serbian Antonio Conte!