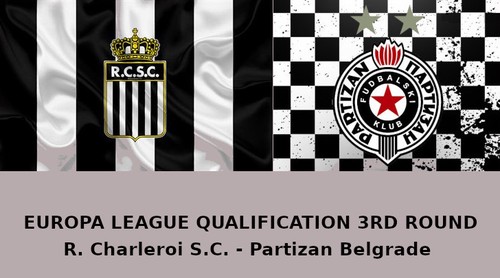 Third round of Europa League qualification is on schedule this week. It will bring us two Belgian - Serbian duels and first of them is game between leader of Belgian Championship R. Charleroi S.C. and struggling Serbian club Partizan Belgrade.

Despite some people here think that Belgian league is somewhere close to Serbian I don't share that opinion. It's true Partizan eliminated Anderlecht 10 years ago with big luck after two games which ended 2:2. It was because Belgian side was to nervous on penalties and blazed couple of them over bar of Partizan invalid goal keeper Radisa Ilic. That does not make two leagues equal. Belgian league is normal league where everyone can win or lose with honest competition and normal referees were people outside field don't influence on outcome of games. Yes I know there was some game fixing scandal recently, but that's because couple of my countrymen were involved. LoL Fact that they did investigation about that tells about different approach in those two leagues. All football fans knows that Belgium national squad is far more superior than Serbian. They were 3rd in last World Cup while we can't win anyone serious in recent games. So that's starting point for Belgian black-whites.

Belgian club has fantastic 6/6 in league until now. They have beaten Club Brugge too. They look very confident and powerful in last game which they won 3:1 conceding goal around 90th minute. Iranian player Kaveh Rezaei is main goal scorer in that squad with 5 goals. I can't say I saw big names in this club, but 6 wins from 6 games is for respect.

Partizan Belgrade is currently in break down state. Departure of coach Savo Milosevic brought us few years jobless coach Aleksandar Stanojevic who got sacked in every club he was after couple of months. Black and whites from Serbia played against absolute amateurs in first two rounds, but managed to win with only 1:0 after penalty awards or shell I say gifts ? First against club from Letonia or Estonia I forgot was because young Stevanovic hist hand of defending player deliberately in "attempt to cross". He noticed his arm is not in natural position and deliberately hit ball in it and referee gave penalty which "Mosad Lab penalty drioid Bibras Natcho" converted into goal. Against pure amateur side like Moldavian side St. Georgiu steam roller was unable to score in regular time, but guess what in extra time referee gave one of the funniest penalties I ever saw. High ball unreachable to anyone some contact by players who can't get it and fiju --- penalty. Again droid Natcho "who missed penalty last time when he was in institution before school" and 1:0 and then disgraceful yellow cards for time westing for goalkeeper Stojkovic and Lazar Markovic... That was poor! Then not less poor game against Zlatibor(second from bottom on table) in Serbian League. Some players didn't start it because of tight schedule, disallowed goal for non existent offside and near the end penalty for non existent handball (at least we can't see it on recording). Droid scored and it was 1:0... Do I need to say we saw angry midnight public announcements by Red Star after that mentioning just penalty not regular goal and not less angry response by Partizan mentioning just regular goal not penalty and few not given red cards to Red Star players from last weeks... LoL.

Now with all that impression and all those poor games by Partizan I must say it's not good attacking squad it was once under Savo Milosevic. Now this club turned into bunch of rapists of football ball which can score only from penalty. Only masochists can watch now that bunch of non organized players. I can assure you one thing which is that referee won't help against Belgians for sure. He'll probably be on side of richer Belgian club.
With all that in mind I can only recommend you to bet on home win (1). It's strong as castle gates and odd is around 2 which will double your invested money. I know Serbian clubs can from time to time surprise and win against someone when you less expect, but I don't see how it can happen here. You have one more trump in your hands. His name is Uros Vitas, Partizan defender who can't play single game without making at least one cardinal mistake! He's so "good" that when goalkeeper volleyed him instead of ball in the box in last game against Zlatibor I thought why didn't you hit him harder man ? I have no doubt he'll be real show man against R. Charleroi S.C.