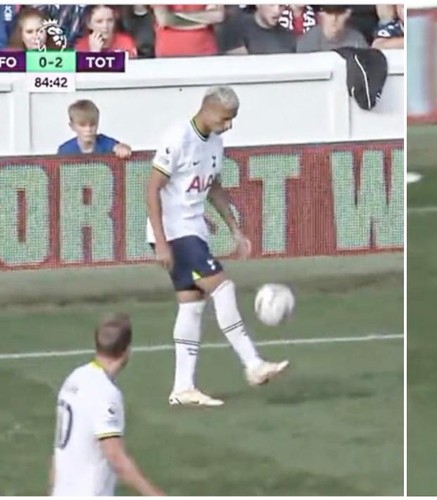 Richarlison managed to make everyone talk about him after Tottenham game against Forest. Twitter fans, Sky Sports, Talk Sport journalists are all pointing on him. However they all focus on wrong thing - kick ups of ball near the end of the game and discuss that, instead of giving us real look at his performance. It's not secret I was against signing of this players because of his rolling on the pitch and simulating, but I'd try to be objective.
His magical cross with outer part of foot toward Harry Kane which lead toward second decisive goal in this match was really superb. We can safely say that behind that stands serious football skill. I knew he has some skill before, but now I know that skill is serious. He can beat his man, he can do exciting things on the pitch, he can give you hope something will happen after he gets the ball.
I want to point on two other situations. Soon after second goal he had dead chance, ran around 5 meters from goal but his bad effort was saved by Henderson. That shows us something people accuse Saint-Maximin for which is lack of end product. That kind of chance should and must be goal! Problem with Richarlison is that he will give you hope, he will make you jump from seat but just when you stand up and start to think goal is inevitable, he will throw you back with disappointing last touch.
Third situation was near the end when Djed Spence ran like super fast train through Forset defense just to see RIcharlison pass to him on wrong way left instead of right or direct ball. That can be because they are not set to play together yet, both new players, but can indicate bad decision making. I mean pal do you really expect Djed will run in 2-3 Forest players and not in empty space ?
Add to that constant wish to provoke opponents and to roll all over pitch and you have full look on this player. Serious skill and wish to mock opponents are there, but finishing and doing last pass and the best decision making are not there yet. I can agree he's looking better than Son at the moment that his coming in make us look better at the moment, but I am still not convinced he should start in front of Son. I corrected my opinion about him, he offered other type of quality to Tottenham and will probably be very good squad member who will for sure start some matches in this club.
About Sky sport's and Talk sport's anti Tottenham narrative and question should kicking ball up be awarded with yellow card like diving I can only ask should biased, stupid, double standard journalism be awarded with one week ban from ether ? COYS!