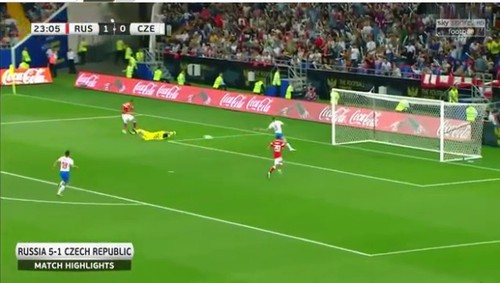 Russia demolished Czech Republic in friendly game held on Rostov on Don with 5:1.

First goal scored A. Ionov in 8th minute on assist by Y. Gazinskiy who passed him from centre area long low ball. Czech players tried to make offside trap but failed and Ionov went alone on the goalkeeper and easily score. Crowd did not wait much more for second goal as new long ball make A. Zabolotnyi alone in front of goalkeeper at 24th min. He moved around him and scored for 2:0 while one Czech player tackled in failed attempt to kick the ball before crossing goal line. At 29 min. Russian player was brought down in the box in big chance and ref pointed to the spot. A. Ionov easily converted that to lead of 3:0. Goal for consolation for Czechs came by T.Soucek from melee in the Russian penalty area where he somehow scored from close range. Game has been resolved by A.Erokhin in 78th minute. High cross in the box from left wing and school header with ball to the ground and right in the net for 4:1. Then we saw spectacular Zidane like dribble by Russian player, pass on the ground to the wing, cross on the ground in the box and easy score by D.Poloz in 83th min for final 5 1.

Russian squad showed strength in this game and warn all future opponents that it will not be easy to beat them. On the other hand Czech Republic showed some poor defending, poor setting up of offside traps and lack of concentration. Of course this was friendly game, but when national squad gets 5 in the net that should worry every Czech supporter.