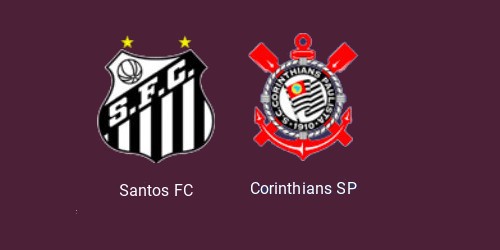 Next round of Brazil championship brings us game between Santos and Corinthians. Game will be played at Vila Belimro on Thursday 13.06. with start at 2:30.
Look at the table
Home side is on second place on the table with 17 points with 5 wins, 2 draws and 1 lost game with 11 goals scored and 7 conceded. Jorge Sampaoli's squad have lost only game against first placed Palmeiras with 4:0. When we look at their home record they have 3 wins and 1 draw with 8 goals scored and 2 conceded. Fluminense, Vasco da Gama and Athletico MG have fallen in front of them while only International came back home alive with one point after 0:0 draw. Away side is on 10th place with 11 points earned from 3 wins, 3 draws. Fábio Carille's boys have one defeat so far. They scored 7 and conceded 4 goals. When we look on away games only they have 1 win, 2 draws and 1 lose with 5 goals scored and 4 conceded. Only defeat came from Bahia with 3:2. They took 1 point against Vasco da Gama and Cruzeiro and all 3 against Athletico Paranaense.
Look at recent encounters
Recent encounters discover that they play tough games with big prone to draw when Corinthians is host, while on other hand Santos has more success when they play at Vila Belimro.
09-04-2019 Santos FC 1 : 0 Corinthians
31-03-2019 Corinthians 2 : 1 Santos FC
10-03-2019 Corinthians 0 : 0 Santos FC
13-01-2019 Corinthians 1 : 1 Santos FC
13-10-2018 Santos FC 1 : 0 Corinthians
07-06-2018 Corinthians 1 : 1 Santos FC
Style of play
Santos is playing possession football with short passes. They like to control ball on opposition's half and to attack over right flank. When they don't have ball they are aggressive and like to make offside traps. They are also strong in direct free kicks. Weaknesses are: duel play, defending against flank attacks, fouling in dangerous areas of field. They let other side create significant number of chances. Corinthians on other side is playing at their half with long balls forward. They are attacking over flanks and use counter attacks. They also like to shot from long range. Corinthians is strong in duel play, but weak in keeping possession of the ball.
Players
Santos main player is 27 years old attacking midfielder Eduardo Sasha who scored 4 goals for them. The best rated player is 18 years old Rodrygo with 2 assistance and 1 goal scored and average raiting of 7.86. Important player is also 34 year old Uruguayan Carlos Sanchez who scored 2 goals so far. Corinthians on other side has Pedrinho 21 years old attacking midfield who scored 3 goals for them. They have high rated defender 30 years old Fagner with average rating of 7.58. He made 2 assistance for goals this season.
Form
Corinthians lost against Flamengo 1:0 and drawn against Cruzeiro 0:0 in last 2 games. Santos won Ceara 1:0 and Athletico MG 3:1 in last two games. It looks like Santos is in better short term form here.
Conclusion
Thing we can expect here is Santos dominating possession and controlling game on Corinthians half .They will attack while away side will wait for chance from counter attacks with long balls over flanks. Corinthians will dominate in duel play, but will struggle to keep possession of ball. Position on the table and short term form, head to head statistics and strong record at home this season give Santos advantage in this game. Corinthians also failed to score a goal in last 2 matches. My opinion is that Eduardo Sasha and Rodrygo are going to dominate here and should lead Santos to win in this game. I think final result will be 2:0 for Santos.