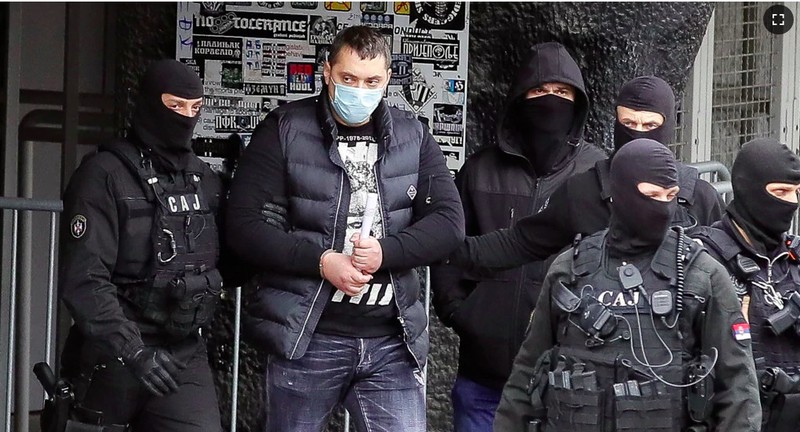 Some interesting stuff happen in Serbia since my last article. Ladies and gentleman welcome to sex, drugs, murders and football story from deep mud of Serbian football. Few weeks ago leader of notorious criminal group Veljko Belivuk has been arrested in Belgrade Serbia. Police made raid on Partizan and Red Star stadium and found some hidden drugs on both objects and sniper on Partizan stadium. They claim sniper was for no less than to killing of president of state. Interesting ? I find it interesting too.
So who is this Veljko Belivuk ? He is leader of some new Partizan fan group. Group was created from ex Red Star and FC Rad supporters. They suddenly over night have change of heart and decided to start supporting Partizan, showed up on Partizan stadium and with police help take control of South stand of Partizan stadium causing dividing among "Gravediggers" (name of Partizan fans). Previous now killed leader of group was some character called "Sale Mutavi" ex Red Star ultras who also suddenly decided to support Partizan. In 2016 his group attacked bodyguard of Partizan president Milos Vazura on parking in front of stadium and didn't care for cameras which recorded them. Warning recordings are disturbing!
State didn't do much after that, despite that "Sale Mutavi" already had record in drug dealing. That was clear message to chairman of club if you don't do what we want look what can happen to you. Later he was sentenced, but never went in jail because constant postponing it because of his "health issues"! Person from court who postponed it publicly said he never saw Mr. Sale. LoL! Later he was killed in some gun attack. Mr. Belivuk took over his group after.
Some real Partizan fans who tried to oppose him start to disappear and police didn't do anything to find out what's happening. This year something changed. As you know it's colonial management in power in Serbia. Western centers of power are ruling and playing with domestic politicians like with puppets. Some lower level puppets sent compromising evidence about other puppets in USA. Real rulers know everything about anyone here. President of colonial management received urgent task to deal with some people who think they are to powerful. There was a letter in USA congress expressing concerns about 5 people controlling all business with state in Serbia. President of Football Assotiation Slavisa Kokeza was one of them. They told colonial ruler to deal with those people. Then Mr. Belivuk's luck turned around. President's son was pictured in company of that Belivuk's group. He went on World Cup 2018 with them and president's son is Red Star fan. What was he doing with "Partizan ultras" group ? Rumors are saying Belivuk was angry on president because he stopped answering on his calls. They say also he catch president's son and harass him like slapping him across face during 15 minutes asking him "why daddy doesn't answer my calls ?" and all in front of 2-3 security guys from unit "Cobra" which tried to protect him, but didn't confront group because they were outnumbered.
Soon that police raid happen. They founded drugs and sniper hidden in some box-bunker on Partizan stadium. Police fomration "SAJ" (Specijalna Antiteroristicka Jedinica - Special Antiterorist Unit) lead raid. Former member of parliament Srdjan Nogo, for who I think is no less than state security agent but very good informed, said is under direct USA command and that it's commander whenever get some task call first CIA headquarter to ask if he can do that. That drug trafficking disturbed american agency DEA which ordered and made this action. Background of clash according to him is wish of minister of police to remove commander of SAJ who then took him to USA to show him who is who here. LoL Then in USA minister of police got task to deal with this drug dealing cartel. Then he suddenly discovered the biggest plant of Marijuana in town of Jovanjica Serbia. LoL
After arresting of Belivuk we can read disturbing things in local newspapers saying they had execution room in Ritopek where they brought victims and cut them peace by peace and then playing football with their heads on Partizan stadium!! They removed evidence drove bodies in car with same registration number like police director has avoiding controlling on roads in Serbia. Mr. Belivuk according to local press killed also one Red Star fan after warning him not to deal drugs on his territory.
Case lead to police hearing of president of football association because some people said they meet Belivuk over Mr. Kokeza. President of Football Association and main man in UEFA for deciding where UEFA money is going then refused police polygraph when answering questions. Police express concerns about what he is saying. Pro government tabloids are writing against him now like he was with people preparing assassination of President. He didn't show in public since than.
Some sources are saying Partizan vice president Vuletic was involved with Belivuk and call him mastermind behind all operation. They offer some phone call where Belivuk said "We are bringing stuff to you we love you". Mr. Vuletic said it was conversation about supporter choreography for games. Partizan director Milos Vazura was in police also reporting how is possible to have drugs and sniper on stadium without knowledge of club high officials ?
Other pro-Partizan sources are saying that group was developed by vice president of government Mr. Nedic who has task from president Vucic to destroy Partizan sport society. Fact that government did nothing to protect Vazura and Partizan leaders after attack of that group and fact they are all ex Red Star and Rad fans support this. They also fight with people on stadium who sing against president. All of that beause Vucic is scared that stadium will sing "O Vucic gaylord you traitor of Serbia" (like they did on Serbia-Albania "drone game" 6 years ago). He also never hide fact that he was ex Red Star ultras involved in riot on Dinamo stadium - Maksimir before collapse of Yugoslavia. As such deviant he wants to destroy sport society of Partizan.
Opposition leaders and some personal from those minor parties are calling for closing down Partizan stadium etc... They are saying they don't care for drugs on Red Star stadium, but drug on Partizan stadium is big problem.
Partizan chairman Milos Vazura had his own problems too. According to pro-Partizan youtube channel Danas Conference Center and journalist Zeljko Pantic he was recorded during his work in brothel of Albanian mafia in Switzerland before Young Boys-Partizan game few years ago. He was doing underage woman who looked like over 18. They recorded him in 4K so he's now Vazura 4K and good target for blackmailing. He said they blackmail him to put Stanojveic for coach who has task to sell all Partizan players which don't have Fali Ramadani for agent. Fali Ramadani is person who sponsored Liberation Army of Kosovo during war 1999. His business model is to pay something to club for rights on young players and then once Partizan sell them he takes most of the money. He was already doing business with club under ex President Djuric and that lead to deep minus on bank balance of Partizan. All Red Star media loves new Partizan coach Stanojevic, referees suddenly started to threat Partizan like Red Star and Partizan has big row of wins, opponents are making big mistakes etc... All of that according to Mr. Pantic to let Stanojevic chance to stay longer to sell every good player from Partizan in near future and practically destroy club.
Zeljko Pantic also said ex president of football association Tomislav Karadzic called him on dinner and told him that people from UEFA from Slovenia called him telling him that UEFA has no legal way to deal with who will Football Association of Serbia appoint in UEFA and that Mr. Ceferin from UEFA is good person who will come and talk to Mr. Pantic in future explaining him situation and what UEFA can and can't do. He said Pantic's youtube channel is watched in Slovenia and use in inner politic fight between Janez Jansa and Ceferin who has also political ambitions after UEFA.
President Vucic is saying someone eavesdropped his phone calls, he has all those calls (according to some sources Sale Mutavi gave it to him before he was murdered), they planned no less than to kill him that we will be forced to remove children from TV when he presents to us what Mr. Belivuk's group was doing etc... Some you tube sources and ex policemen are saying it's big clash inside ruling party with minister of defense (ex minister of police) on one side and president on another.
I'm afraid we'll know what really happen here once this authority fall down and new replace them and start real investigation including President himself.
I am big fan of stopping football in Serbia for 5 years until all criminals are removed from it and until we can finally play regular league. UEFA must find way to remove political influence in football for which Republic of Serbia is the most vulgar example.