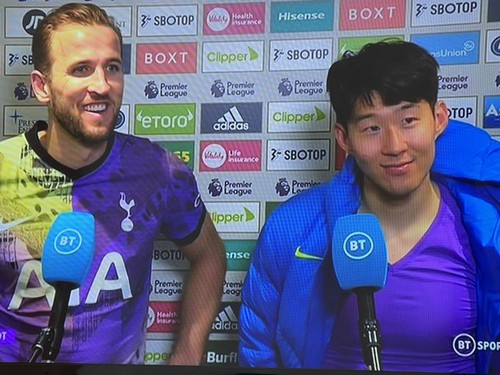 I wrote it's matter of weeks, I was wrong it was matter of days when Son and Kane will be officially the best attacking partners in Premier League history! Before today game they shared first place with Drogba and Lampard with 36 combined goals and assistance. You know what I mean when one player assist to other and other score a goal. Son and Kane did it 37 times now and are the best!
On result of 3:0 for Spurs Kane sent one of many of his guided rocket passes with eyes toward Son and South Korean calmly executed the chance! Both said they are happy about this achievement, but more happy for this 3 points and win in this game against Leeds.
Game could maybe go other way if Leeds scored from their first chance in first half on 0:0, but they missed. Spurs were clinical in front of goal. First Sess to Matt for 0:1, then miniature of Swedish player Dejan Kulusevski for 0:2 and then Kane's perfect running in on Hojbjerg's high ball and clinical finish for 0:3 and game over for hosts.
Leeds hit post twice, had at least 2 dead chances more but failed to score. Spurs could score couple of more goals, but Matt and Emerson failed when they were one on one with Leeds goalkeeper who also made one good save on Dejan's attempt.
I am happy for win, but if you ask me this type of performance will not be enough for more serious team with clinical strikers. Tottenham must defend better especially on crosses on far post.
Reinforcement from Juventus Dejan Kuluesvski is playing well so far for Spurs and I believe he's also going to be very serious player. He had football intelligence, makes good decisions in situations, can cross, can kick on goal and opponent never knows what he has in mind.
Like I wrote in last article Spurs are one team when opponent give them space to play and complete different when opponent is not giving space or sit deep. Tottenham's Godfather Antonio Conte need to solve this problem. Once he do that we'll be very very very serious team. We'll see how we will look against Middlesborough in FA cup in few days.
One more thing. Kane is climbing on all time goal scorer list which now looks like this:
1. Alan Shearer - 260
2. Wayne Rooney - 208
3. Andrew Cole - 187
4. Sergio Aguero - 184
5. Frank Lampard - 177
6. Thierry Henry - 175
7. 𝐇𝐚𝐫𝐫𝐲 𝐊𝐚𝐧𝐞 - 𝟏𝟕𝟒
Overthrow Thierry Henry Harry! That would be salty!
Some might say it was only Leeds United, but I am like Conte I like to win so: COYS COYS COYS COYS COYS!!!