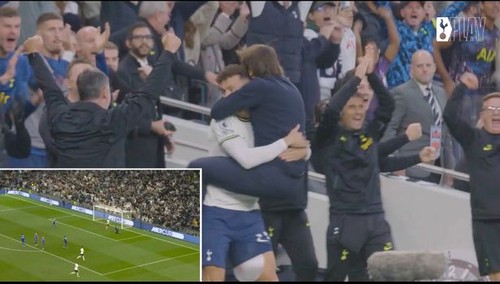 Special war against Tottenham before North London Derby has started. Instead of writing and talking about national squads some journalists are starting their never hidden and well known anti-Tottenham agenda.
It all started with German newspapers saying that Harry Kane didn't extend his contract with club because Bayern advised him that because they'd like to see him in Munich. Rumor said they contacted his brother and agent Charlie Kane about this. Despite Bayern director Salihamidzic said they didn't contact player so far, English journalists started articles saying things like contract has been definitely made already. Other vector of attack is Potter's wish that Kane become his first signing for Chelsea! That's what BBC said. I want many things too like to go like tourist to Mars, but I can't. LoL!
Other line of fire started in Italy where Juventus is struggling big time. They lost against Benfica in manner of small club. They could concede 7 goals in that match! They continue with losing in Serie A game against Monza. TItles are saying Alegri will be sacked, and they started to search for replacement and guess who they founded ? Antonio Conte! Conte is coming home, Conte is delighted to return to Juventus and dirty stuff like that. Remember last year when French Newspapers claimed he called owner of PSG offering himself as new coatch of that club saying 'it's my lifetime dream to coach PSG' ? LoL!
So Kane in Bayern (or Chelsea?) , Conte back in Juventus and I guess that would be enough for Arsenal to win this North London Derby. Or is it ? Why not start some Son going to Liverpool or Real Madrid agenda ? :)
Conte has contract until end of this season and if both sides agree it can be extended for one more year. Tottenham asked him to say until January is he going to extend it? Kane has contract until 2024. They are not going anywhere. Conte is deeply connected with Tottenham. Does manager who jump in arms of player from the bench celebrating Son's first goal look like someone who want to leave ? Does manager who said he's building something big here, closing gap between Spurs and City, Liverpool and Chelsea look like one who would abandon all of that all of sudden ? Does he look to you like someone who will escape from current club before he gets trophy bigger than League Cup ? Does he look to you like general who would abandon his army during big battle ? I don't think so!
If I am Nedved or Anieli I'd go another path and call Zinedine Zidane. He's ex Juventus player, very good coach and currently free and probably ready to take the challenge! Poch is also free you know.