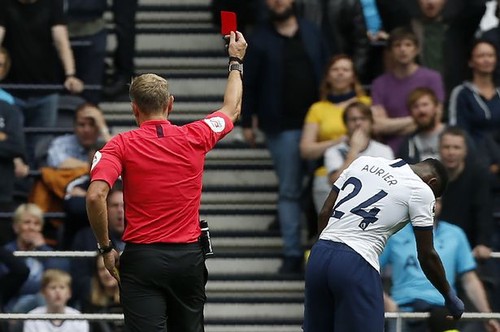 Tottenham has ugly habit to turn something which should be easy victory with good goal margin into life or death fight to the end with unpredictable outcome. Southampton club from second part of table who will fight to avoid relegation this season tormented them until final whistle by referee. It was not because they played some great football, but because of blunders of Tottenham players. They almost managed to win themselves in this game.
Everything started well, Son passed good ball to N'Dombele who scored goal from inside the box. 1:0 lock has been opened and visitors must open themselves in attempt to equalize. That is what Spurs like, to catch them on quick counter attack. Then came storm from clear sky. S.Aurier who had yellow card made something which shows his lack of brain cells. There was some question if ball went out of play on center or not, referee did not give out and Southampton player passed forward and one of them ran near Aurier alone on left wing position of Saints. Aurier who had yellow card pulled him down and get second yellow/red card. Sent off in 30. minute!
Few weeks ago he was so over confident that he give himself permission to tell that "There is no real competition in Spurs for right back position", believing he is so better than everyone else. He played good against Crystal Palace, solid against Leicester, but this move shows that there is big competition in stupidity in Spurs, with him having great chance to get first award. Where was his brain at that moment ? Was it in invisible mode ? In that stage of game at that result it's better even to concede a goal than to let team mates down to 10 men. It was just hilarious stupid.
Game turned on into Southampton attacking while Spurs defend in "who is alive mode" trying to do something from counter attacks. Fact that there is real competition in stupidity in Spurs after all showed Ugo Loris with his upsetting, shocking Johan Cruyff dribbling on goal line against Southampton striker Ings. Ball did not listen to him, Ings took the ball and scored goal from 1m distance. I watched that in disbelief with open mouth like some catfish. Questions passed through my head were like "Oh my God did he do it again ? How much red wine man need to do that ? Did he blow a balloon before the game (like when police stop your car believing you are drunk) ?
Later on press conference Poch said "I told him to play like that blame me". Hahahaha. I know he tried to protect him, but he did it in wrong way. Lloris showed real world class with two great savings in second half. There are few in the world who can make such saves. I think he actually saved Spurs in second half and that he is one who saved the day. I believe Poch said to them to try to pass and play and not to kick long ball forward, but there are situations when you just must do it especially when you are near goal line. I am not saying I know more about football than Poch, but I really believe it is better to shot long ball to center and risk losing of possession than concede such goal after some goal line dribbling.
However one quick counter attack initiated with Son who passed to Eriksen who somehow transfered ball toward Kane who scored put things on right place. 2:1 for Spurs at half time. There was hope for victory after all. I prayed that Foyth does not come in to rise this competition by repeating things from Bournemouth.
Second half was hard to watch, Southampton pressed hard, Spurs were unable to go on other half most of the time. One good free kick shoot which went right on place where post and bar connects, but magnificent Ugo Lloris punched ball in corner. That was awesome world class save. Later in second half Yoshida already saw ball in the net after close range header, but guess what panther on Spurs goal jumped and saved that too showing he is one of the best goal keeper in the world. I didn't see something like that recently. I believe hearts of Spurs fans were in heels at those moments.
Tottenham made few attacks, Kane made few shots from not so good positions, but those were not real chances worth mentioning. Rose was close to make penalty with miserable missing ball coming into box, but fortunately missed Southampton player too. At the end 3 points stayed home, but performance and blunders rise concerns and questions. I know mistakes are part of football, I know Poch wants "freedom to make mistakes", but those we saw yesterday were just how to say to stupid.
Lloris saved the day, all Spurs fans should worship him after those 2 savings, despite his Johan Cruyff's moment. Aurier has no excuse to let down team mates with his stupid second yellow card in 30. minute. That foul could make sense after 75. minute not to concede, because there isn't much time to score goal after, but in 30. it is just stupid. I hope Poch can take out his brain from that stealth mode before Bayern game.
This competition in stupidity must be over soon, fans want competition for top 4 places on table and by making such blunders it is going to be unreachable. Good thing about this game was big diligent of all players, they looked like team with fighting spirit, where every player is ready to die to correct team mates error. Team spirit was on very high level.