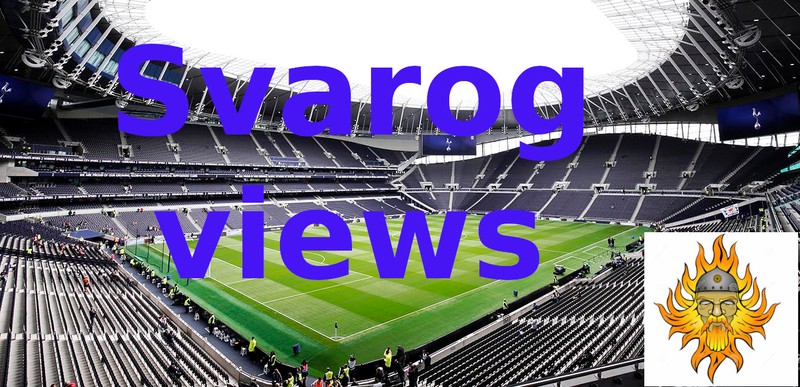 Tottenham draw with Sporing 1:1 in Champions League because semi automated offside technology decided to deny Harry Kane's goal in 95th minute because of offside. Technology needed 5 minutes to make final decision. Situation was that Emeron Royal sent ball backwards which hit defender and deflected to Kane who looks onside from the angle of camera we saw. That pushed Conte over the line and he got red card from this referee from Netherlands (maybe Ajax fan?).
This was game of two halves which showed clearly what the main problem in Tottenham is - stupidity and lack of skill of large number of players. It was terrifying how smarter Sporting players are, how smarter they run, pass and how bigger skill they have compared to their Tottenham colleagues. It was so clear in first half when they scored goal and made couple more big chances. Result of only 1:0 for them in first half was very small margin compared what we saw on the pitch. Player who scored goal who was not good enough for Tottenham in the past looked like Diego Armando Maradona for Spurs defenders. Way how Romero was tricked in one point and made foul for non given yellow card was very funny.
In second half we saw entirely different Spurs. It was Tottenham like we want, attacking, grinding opponents. North London side had many chaces, what Dier didn't score was unbelievable. Guests seem out of steam, we took away them ball with ease, but stupid passes, stupid running and inability to pass ruined the day. The biggest horror of the night is when Emerson had ball inside the box, Gil running in space only for Brazilian to send to fast inaccurate ball on 5m distance! When you do that in other top 6 clubs you disappear from squad. In Tottenham they let you do that for a year. I don't want to listen arguments how Djed Spence need to go on loan, he can't be worse than this Brazilian ignorant. Brazilian need to go as far from this club as possible. He can carry on his countryman Lucas who lost every ball he's got. We need more intelligent substitute for Dejan Kulusevski. Son was falling all over the pitch asking for fouls which is another problem. To easy falling excepting fouls by some players. Or was it strategy to force club to sell this "superstar" to Real Madrid ? I have no idea.
Anyway if you sleep in entire first half you don't deserve to win. Everything has not been lost, we are still first in the group, Sporting and Eintracht have 7, Marseille 6, Tottenham 8 points. Draw against French side could see us progress in knock out stage, but probably from second place because Sporting will probably knock out Eintracht in their game and go to 10 points. Draw in Marseille end the job, but can those players do this or will they fill their pants there like they did on Chelsea, Arsenal, Manchester United stadium ? I am inclined to believe it will be last one. That does not mean I don't hope for result there. If it doesn't happen it will be no disaster because this team is an average European League team not Champions League one. Now more intelligent players on some positions are badly needed in next transfer window.