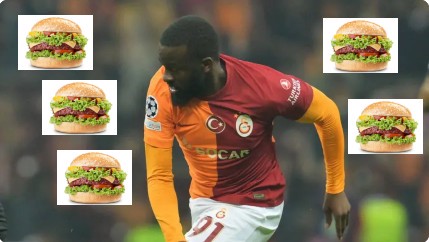 Tottenham brought Lyon player Tanguy Ndombele for more than 60 million pounds and gave him salary bigger than 10,000,000 per year, but he failed to impress coaches like Jose, Antonio and Ange. His Tottenham career was over when one Spurs fan came into his house as cleaner and find out dozens of burger boxes in his garbage. He told to Tottenham TV it was disgusting to see. Ever since Spurs are sending him on loan trying to give him opportunity to play for other teams. Last loan spell was to Galatasaray Istanbul. Staff there noticed he is 6 kg over weight and put him on diet, engaged nutritionist to help him and look what has happen.
Galatasaray lost Champions League game against Bayern with 1:3, legend came into play near the end and was the worst on the pitch. That was not the worst, but as far as I understand he ordered burger(s) after in team hotel ?! Ahahahahah That caused brawl with coach who said later his loan spell will be terminated and mark another player to replace him in January. Tanguy is obviously taking piss with that order. Video of him participating in training "in circle" play also leaked. Guy is hardly moving, didn't bother to run 1 or 2 meters. He looked like man unable to run during entering on the pitch in that game.
Imagine you have big skill and could be something similar to Zidane, but you fail because you hate to do training or to run on the pitch and eat burgers instead ? Imagine you are in Turkey and order burgers when you can order Kebab or Donner ? What a lack of taste! Of course Turks will be dead insulted and fire you. Disrespect! LoL!
I am sure it's not very entertaining for Tottenham owner Daniel Levy to watch his 60 million "asset" with salary greater than 10,000,000 per year behaving like this. I can imagine what he will do to the scout who told we should bring him in. I thought contracts with professional players have clause saying if player is not doing his job contract can be terminated. I was obviously wrong because Spurs would terminate his contract long time ago if that was the case.
Tanguy Ndombele you are disgrace of a player. You will be very sorry about your football career when you come to 40ies and see what you have done with your career.