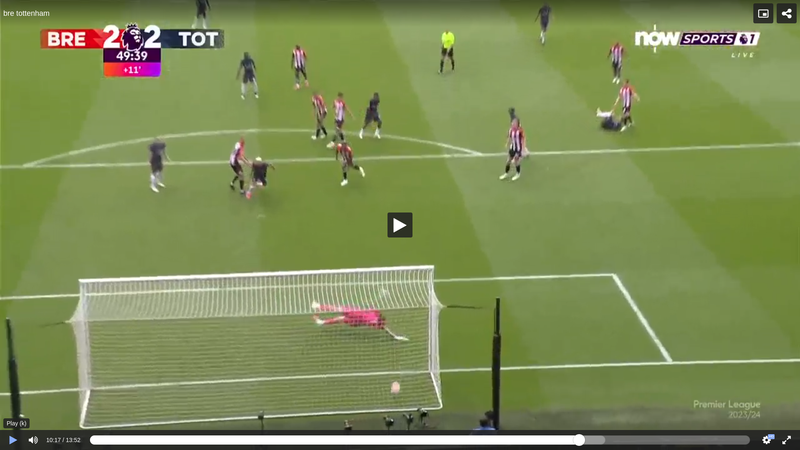 Tottenham earned point on away game versus London rival Brentford. It was tough game with non friendly referee, we had the ball most of the time, but didn't create many clear cut chances. Everything started good, we lead 1:0 after 11 minutes when Maddison made superb cross form free kick and connected Cutie Romero with goal. Argentinian did header from close range and hit the target. However he signaled he has problems because few minutes before he had head clash with Mbueno. Ange didn't want to risk him and sent Sanchez on pitch.
Hosts equalized from penalty spot after Son had contact with Brentford player. My oppinion is it was not to hard contact and I am not sure it would be penalty if it happens inside Arsenal, Man United or Liverpool box. Mbueno scored from the spot in 26th minute. Around 10 minute later it was already 2:1 for hosts after Henry escaped from Royal on our right side and made low cross. Sanchez was nowhere near opponent Wissa who made not to good attempt, Vicario dived and would save it easily, but Van de Ven tried to block and ball deflected from him and tricked Vicario. Very lucky goal for hosts. However first half ended in 2:2 draw because Emerson Royal made very good shot from outside the box after yet another Maddison pass. Right foot attempt into corner for 2:2. Hosts had one more big chance but Mbueno missed empty goal.
In second half we pressed them strong, but created just few half chances which Son and Richarlison didn't converted into goals. They tried to catch us on counter attacks, but didn't make some big chance.
My impression after this game is this: when we pass balls between us ball must go faster. With this type of slow passes we give defending team a lot of time to regroup and cover everyone. Other thing is Son and Kulusevski need help when we attack from flanks. They can't beat two men in front of them! They didn't have enough help and usually return ball backwards from flank positions. I think Bissouma was superb, Maddison and Udogie too. Deki Kulusevski, Son,Skipp and Richarlison did not have good game. Vicario and Van de Ven need few games more to gain some confidence. Vicario has pace and very good reflexes which is the most important.
Ange need more time to make his style of play and if you ask me he need better player on striker position. Next opponent is Manchester United at home. It will be interesting game for sure. Oh one more thing if you read scorum you could see correct score prediction in my previous article! :)