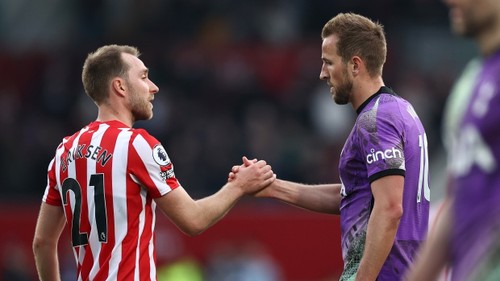 Brentford and Tottenham played 0:0 draw yesterday. We can say that Tottenham had luck to avoid defeat in this not so much exciting game. Host had crossbar, post and clearance from the line, while visitors had few half chances which were blocked by defenders and one strike of Harry Kane near the end which went wide of goal. This is second consecutive game in which Tottenham failed to make a single strike on target.
This lack of excitement in front of opponent goal make fans very angry. I don't think this was walking and jogging on pitch like in previous game. Players moved ran struggled, suffered, but failed to make any good action which would lead toward big goal chance. It was so sloppy, bad passing all over pitch and big impotence in front of well organized and aggressive defense on other side.
Only player who looked like he can do something until 60-70 minute was Son Heung-min. He played like big star. Every time he had the ball he tried to play forward or to go around opponent or to do some good things, but his team mates were just not there. However after 60-70 minute he also started with bad passes, not accurate crosses and things like that.
Sessegnion was awful, sending crosses to no one or behind goal, making bad passes even when he tries to send ball backwards. He was nothing in attack. His wing back companion Royal was so good that some elder fans call for academy player to replace him because he can't do anything useful in attack and Romero saved him few times when he was beaten defensively. Wing backs were joke and pure 0 and all tactics of Conte relay on them!
Harry Kane had day off in first half. Every touch he made in that half was wrong, he failed to hold ball every time. Bad pass or easy losing of ball is all what he did in first half. He improved a little in second, made goal line clearance, entered in two half chances, but we all know he can do a lot more than that! To be fair he was heavily marked every time he got the ball Brentford players challenged him during receiving initiating body contact or making little push and referee was not giving fouls on that.
Deki Kulusevski was also not existing in first half, but had some nice crosses and attempts in second, but it was far bellow his level from previous games too.
This is puzzling for me why Tottenham Hotspur struggles against well organized defending teams ? What do we miss here ? When we have some space for play we can give 3-5 goals without problems, but when 8-9 players are defending we can't make a chance ? I think it's intelligent actions what we miss!
How Manchester City deal with this kind of problem which they face every week ? Easily! Their players are capable of beating opposition in one on one, they have actions when someone send ball over defenders and someone else is running there, they know how to make strikes from 20-25m, they don't waste attacking set pieces, they know how to play one twos near edge of the box and last but not the least they know how to do crosses and easily play from flank to flank to stretch defense until they find crack in defense and exploit it. They are winning such defending teams even without natural number 9! It's end time that we Tottenham Hotspur master that art.
Some fans are claiming we have not plan B when things doesn't go well with plan A claim we should switch from 3-4-3 to 3-5-2 because we miss body in midfield. It's true we played very good in 3-5-2 once we did it, but with Skipp injured that 3rd in central of midfield could be Winks and I just don't trust that player.
We should continue to trust in Conte and to support club and players, we are still in race for top 4 despite we are not favorites any more. It's Arsenal at the moment, but they have few places to slip until the end and of course North London Derby.
As Benny Friedman would say because a Yid never breaks and a Yid never bends and a Yid never gives up in the night... COYS!