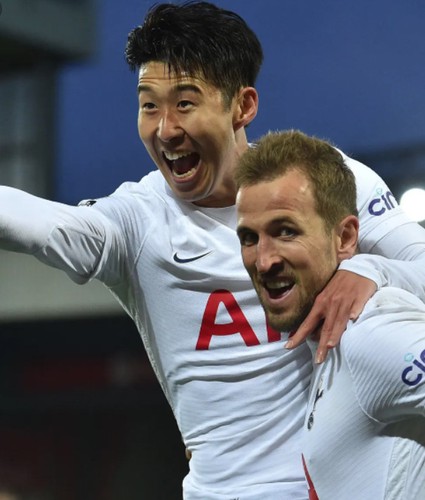 Tottenham drawn against Liverpool at Anfield ruining red's plan about winning England Premier League. It was high tempo where Liverpool attacked, but not create many chances because Spurs defended very very good thanks to world class game by Cuti Romero and Emerson Royal. Last one was man of the match! He totally nullified Liverpool left side, did dozens of ball recoveries, clearings and good moves. Davies and Dier were also very very good. We can even be sorry for not winning this game because we had very very big chance at the end when Hojbjerg tried to find Kane instead to do header on goal from inside of 5m all alone. He founded Liverpool player and chance was gone!
There were few moments which I liked and few which made me swearing during this game. First great moment was when Kane sent Fabinho wrong way turn around took ball and prepares to go forward and pass, but this savage from Liverpool tripped him from behind and didn't receive well deserved yellow card! Situation which made me swear was at the end of first half when we had promising counter attack, but some player sent ball to Alisson instead to teammate in space which would be 100% goal chance! Before that Deki Kulusevski controlled ball between few Liverpool players and then suddenly sent long straight pass and throw Spurs player alone on right wing, he crossed, Kane got the ball, but his kick was blocked by Henderson... Liverpool on other side had one crossbar by Van Dijk and a lot shot attempts blocked by our players. We had one post too when Hojbjerg had clear chance to shoot from outside box after superstar Son founded him, but hit outside of the post! Very good kick, but unlucky!
Second half started with giving ball away to Liverpool, but they didn't punished those mistakes. They were also little sloppy in final pass.. Then hero of night Royal got ball sent long ball toward big daddy Kane who calmed down ball in style turn toward goal, making Liverpool defense coming toward him, but he founded Sess on left who made low cross inside 5m to Son who did tap in for 0:1 and madness on away end of Anfield. that was well played action! We got them in next 5-6 minutes, they were ready to concede second, looked lost, but we failed to connect few crucial passes to create chance. Royal had ball on the right once had free players on far post, but his cross was just little high! There was one big chance later when superstar Son came in the box, had one on one with defender, but he sent ball left to Ben Davies who fired it above crossbar! Liverpool equalized after ball unlucky deflected from Bentancur after Diaz's kick outside box. Ball changed direction and ended up in other corner of goal. That was very very lucky and not first time for Liverpool against Tottenham. I can't believe how they score goals against us...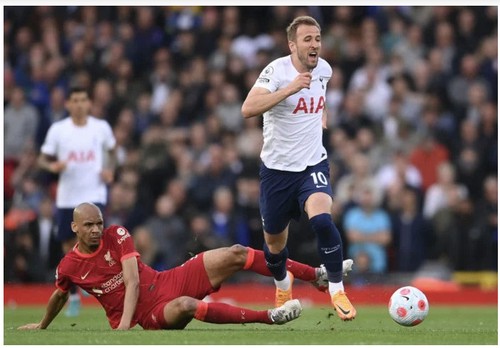 Then in last minute master counter attack ball came to two Spurs players inside 5m Hojbjerg could and should try to kick it on goal, but he was probably scared he'll miss chance and tried to find Kane, but founded Liverpool defender and chance has gone!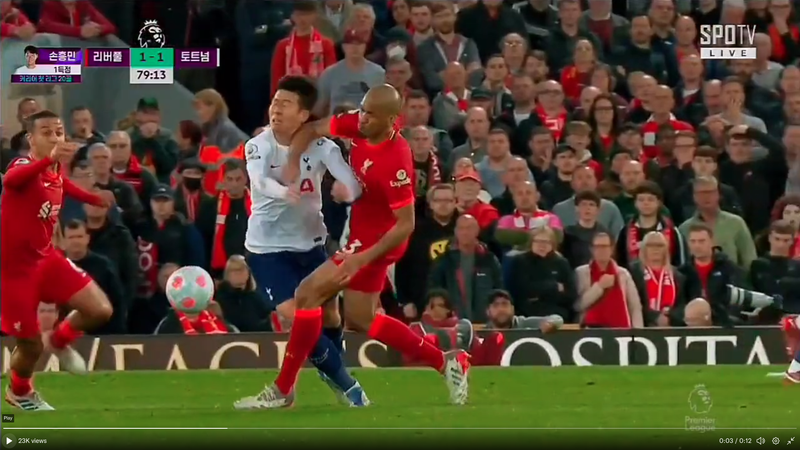 Word about referee now. M. Oliver didn't give Fabinho yellow in first half for tripping Kane from behind. Same player brutally elbowed superstar Son in neck and get only yellow card. I had sudden killer instinct wanted to beat this Fabinho myself after this... It was between yellow and straight red. VAR didn't look at this, maybe Metropolitan police will... That man made at least 3 yellow cards during the game and got only 1. However this referee made me swearing on other occasion. It was fight for ball on our half, aggressive fight for ball in which Tottenham players won it and send it forward in something which should be dangerous counter attack two on two or three on two, but then Oliver blow whistle for foul for Tottenham instead of giving advantage to us! Other than that he was ok, Liverpool players played fair except that savage Fabinho. There was also situation when ref didn't give Liverpool clear corner in first half. All in all M. Oliver was much better than I expected. I almost didn't notice him on the pitch which is what every referee should wish.
Jurgen Klopp complains on the way how Tottenham played, but in reality he can compain only on himself for not giving chance Origi who love to score against us! The title went down the river Themes her Klopp!
Tottenham chances for top 4 are not only in our hands now, we need to win against Arsenal,Burnley and Norwich and hope they will lose some point against Leeds, Newcastle and Everton. I have big hopes in Alan Saint-Maximin from Newcastle! We secured 5th place because United and West Ham can't reach us now.
At the end I want to congratulate every single Tottenham player for this performance, they left heart on pitch, did everything they could, defended passionately, disciplined, excellent, had chances, counter attacks. There is no reason to be down after this we - Spurs are I think the only team in EPL which didn't lose game against top two clubs City and Liverpool this season! I hope with Antonio on coach position and giving money to him and Fabio to strengthen this squad we could challenge for title despite he told it's not realistic in next season. Well done lads, do your best in NLD and in rest of a season we are very proud of you! COYS!