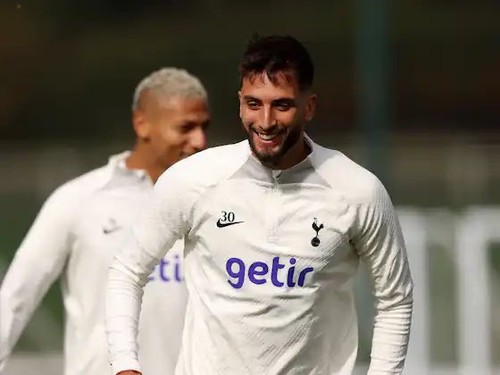 Tootenham will face Fulham on Monday in 21 o'clock which is my favorite date and time for match of England Premier League. Reason is simple fact that my father won couple of bets on 4:3 or 3:4 on Monday night EPL games. :)
Ange Postecoglou told that all players which came back from international duty are ok and available which reduced injury list to Ivan Perisic, Manor Solomon and Sess. Reinforcement from Nottingham Brennan Johnson is back in training, but Ange said we'll see on Monday if he is ready to play or not.
What cheered me up the most is fact that this baler from the picture Rodrigo "Lolo" Bentancur is back in full training again! He will not be in squad for Monday, but fact that he is in training means his return date is very close! This baler dominated in two man midfield of Hojbjerg and him, I think Premier League is not ready to see him with Bissouma and Madders. That is going to be great to watch! I know players are not on 100% after long term injury, but feel this baler is hungry for football and I am sure he will be back in form very soon!
About Monday game I can say Fulham is not top notch, but stable mid table team which can surprise and upset sides who are better on paper. Let me remind you they took point from Arsenal in 2:2 draw and equalized with man down. If that is not enough warning for us I don't know what is. They have very smart, excellent manager - Marco Silva. Times when they were relegation cannon fodder have long passed. That team Fulham threw us out of League Cup this season after equal game and penalty shootout. It is not going to be easy, it will be big fight and only if we don't under estimate and run properly and intelligent on the pitch we can hope for a win. If we start walking on the pitch doing slow passes we will have big problems on Monday night.
Bissouma will be out because of red card. When asked Ange told Hojbjerg is natural choice in that situation, but he'll wait Monday before final decision. I also think Pierre is ahead of Skipp in packing order at the moment. Other dilemma will be if we will see Richarlison on the left or maybe Johnson. I've got feeling Brian Gil will have some role in this game at some point as well. He let mustache and it's well known his superpower is in mustache! :)
Let's hope our players will go on the pitch with right mindset like they had vs Luton and that there will be no events like red cards for our players. My opinion is that we have better squad, that we will dominate the game and win it at the end with result like 2:1. It's important to collect points everywhere we can and Monday night is good chance. COYS!