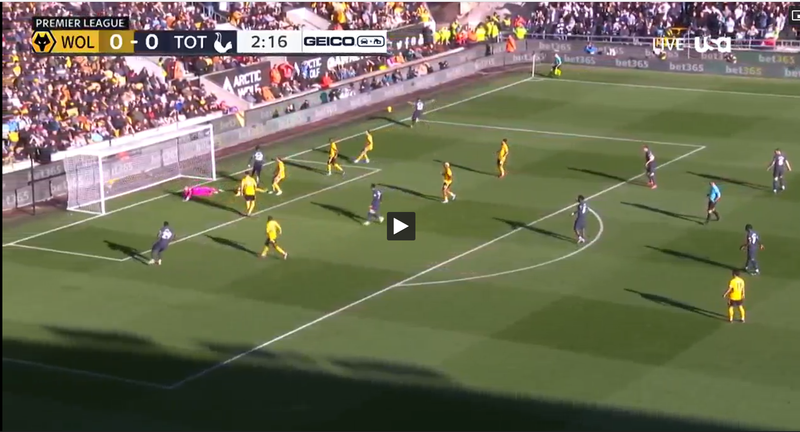 Tottenham lost 2:1 against Wolverhampton after pathetic display. For entire game our decimated squad massacred by PGMOL criminals was able to make just 3 actions worth mentioning. First was in 3rd minute when Dejan Kuluševski did great wonder pass behind his back to send ball in space toward Porro who made low cross for Johnson who scored from close range for 1:0. Our players stopped to exist after that and only tried to keep ball as long as they can and to defend. I didn't see any attempt to attack until stoppage time. Home side didn't do anything to. Worth mentioning is fact that PGMOL criminal who was in charge of this game didn't give yellow card to Wolves player who deliberately kicked Porro from behind without any chance to get ball. Hit was way above heel in back part of leg. That was shocking and disgusting. He didn't give at least one more yellow card to home players. He also skipped to give some fouls after pushing from behind.
Second half was more less the same. Home side was helpless, we were unable to keep ball and to make dangerous attack. One of them happen when Kulusevski sent right time pass to Johnson who fired it wide of goal. When Bentancur came in we looked better on the ball. Near the end we had big chance, but Son got blocked, Kulusevski was afraid to shot and passed back toward Lo Celso whose mild shot was tipped over crossbar.
Then mastermind Eric Dier sent clear ball into out in way that Wolves can make counter attack after. What Eric wanted happen and one player ran alone in front of Vicario with only Davies running parallel with him. He shot in closer part of goal and Italian conceded it. It's 50/50 Dier and Vicario goal. That happen during stoppage time. Then later during it 3 clowns lost ball on center for yet another counter attack which ended with ball in space and player alone face to face with Vicario and they scored and won the game.
By the way slapping or punching Son in face was not even foul, elbow under throat following by brutal foul and later standing on his testicles was only yellow card offence. It's amazing what you are allowed to do to Tottenham players on the pitch.
Ange disappointed me big time. He didn't put young players like Phillips to gain some experience, but put Dier and Davies on central back positions. Hojbjerg instead of Maddison is not working. It was clear at half time. Lo Celso is not working too. Guy is ignorant. He has no clue. He should not be nowhere near first 11. Only solution for that position could be Kulusevski or Bentancur. However when he put Gil in he removed Johnson instead of put Deki in the middle and play with Gil and Johnson on wings.
However person who is really guilty for this is not Dier, Davies, Ange. It's Daniel Levy who kept them in this squad during transfer window instead of bringing better players and serious replacements to Romero and Van De Ven. Let's prepare to lose every single game until New Year until Madders and Van De Ven return. Fortunately we have solid amount of points collected so far. If you ask me this National squad break can last until January now. It's important Eric Dier gained some experiance today. LevyOut!