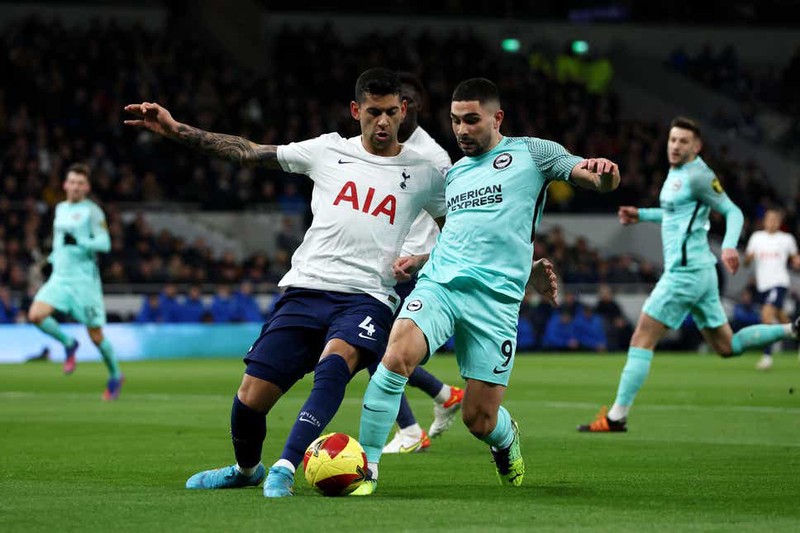 Tottenham eliminated Brighton from FA cup after deserved 3:1 victory. Game has been marked with return of long absent central back from Argentina Christian Romero and South Korean superstar Son Heung-min as well as debut of January signings from Juventus Dejan Kulusevski and Rodrigo Bentancur . All were very good and impressed.
Player who impressed me the most was Romero. He didn't play for Spurs since November and injury on international duty. Cutie was badly missed in all that period. He's smart, right time tackling, excellent in evaluation of high balls and clearings with head, calm on ball and aggressive. Yes he slipped at some point which caused Brighton's big chance, but before and after that he was just superb in all parts of play. He was middle man in defending line last night while Davinson Sanchez was right. Player has big potential and is just superb! If we only have one more like him on LCB position it would be awesome. Paratici already knows that and some names for LCB showed up. Some fans think he can win headers in the air all night and that he's dynamite!
Other returning player Son played one more typical game where he was practically invisible until second half when he missed one big chance, but did great crazy run on Brighton goal after they scored for 2:1 and caused mess in which Harry Kane scored third and sealed the game. Korean's ability to score from nothing is awesome. He also did good work in defending.
New signings impressed me too. Both of them came deep in second half from the bench.Rodrigo Bentancur made one incredible rarely seen dribbling on around 20m from own goal getting rid of two Brighton players and initiated dangerous attack. He did one good clearing with head which tells me he's good in headers too despite Juventus fan said to me he's not. He will be very good add on to this squad. Some fans think he's the reason why we'll play Wednesdays next season!
Dejan Kulusevski showed he's smart player who knows to play serious football. He runs in the middle, all know that, but could not stop him. He tried to do one curly shoot toward goal where we could see he has technique for that. Swedish international with North Macedonian roots setup 100% chance for Bergwijn who somehow missed sitter. Near the end he also tried to go in, but saw two Brighton players running in block and did the best thing short pass toward Kane on 18-20m for clear shoot. Harry did it, but ball went wide of goal. Two key passes for 20 minutes of play that's telling me he's going to be good in Spurs. Some fans love the 'way he moves' and think that he could 'bring us to the top' like in song Saturday night and also that he's 'Super Swede'.
I like devotion and effort during game. Hunger for goals was also there. Harry Kane looked like the hungriest player on the pitch. Scored two goals, had one more big chance and promising position for kick on goal. Only player who get on my nerves because of to much losing of ball was Lucas. He did few good passes, but lost dozens of balls and looked like he's sleeping on pitch. To be fair he did good work in defending.
Question is how far Spurs can go in FA cup this season ? I say to the end with luck in draw and if key players don't get injured. Under luck I mean avoiding Chelsea and City or if drawn to play them at home.
Next game is against Southampton on Wednesday. It's very good squad and tough game, but Conte wants and recognizes only wins and we should do it against them. One last thing and message for Fabio Paratici: Paratici I love what you did in this transfer window. COYS!