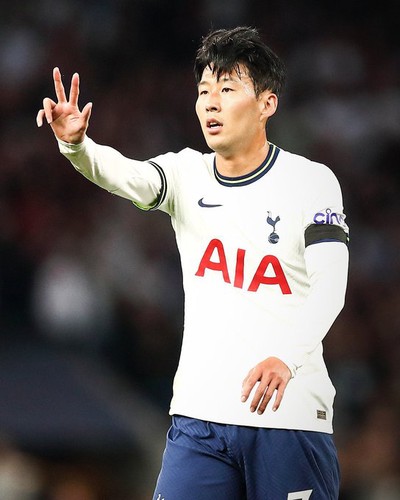 Tottenham destroyed Leicester with 6:2 and South Korean star Son Heung-min scored 3 goals for 13 minutes proving what I wrote which is when he scores from first chance he starts flying on the pitch and will most likely score another one or two very soon after first.
I was happy with squad Conte picked up, only thing I didn't understand is why is Sanchez in the squad instead of Romero ? I think Romero is maybe not fully fit and play under pain. Italian decided to experiment with Ivan Perisic on right wing back position instead of Emerson with Sess on left and front three of Richarlison, Kane and Kulusevski. Yes Son was on the bench in the beginning.
Sanchez made penalty in early stage of the game and anti Tottenham referee decided he should repeat penalty because both feet of goalkeeper were not on the ground and line with heels. Leicester scored after second attempt. However soon after Dejan Kulusevski took corner made great cross on second post where Kane scored from close range. Not much later Spurs had another corner and Ivan Perisic took it. He sent rocket cross to Dier's head and ball ended inside net for 2:1. Tottenham had third too and scored a goal but referee denied it because of foul on goalkeeper. Spurs had one more chance after set piece but attempt was deflected to the crossbar. That was all we did Leicester was in more control of the game, we made a lot of mistakes in back line. Midfield duo didn't exist, they gave away balls all half long, Perisic and Sanchez were shaky on right side, Sess lost air duel Leicester had chance after that and Madison scored with great kick. We could concede third but Hugo saved one big chance at the end of half.
Whatever Conte did on half time was good because another version of Tottenham went out from the dressing room. It started with Bentancur taking ball from Ndidi in dangerous area storm inside box and scored for 3:2. Leicester had few chances after but superb Hugo Lloris saved them. Soon after Antonio took out Richarlison who had bad game and put Son in. When Dejan Kulusevski went out for Bissouma and formation changed to 3-5-2 we become very very dangerous. Kane missed one chance in selfish way, didn't pass to Son, but soon after he did right thing and Korean ran in counter attack. He had two players in front of him but it was not obstacle for him and he sent rocket attempt with non regular trajectory of the ball which suddenly dropped down and ended inside the net under crossbar near to point where post and crossbar connect. It was great super goal and the most beautiful moment of the game. He became emotional after that, almost started to cry, all team mates come around him to congratulate, Ivan Perisic even got yellow card on the bench celebrating it.
Like I already wrote Son is type of player who will, if he scores from first chance, most likely score another goal or two very soon after because he starts to fly over pitch. That is exactly what happen tonight. Visitors came into Conte's goal machine, Son finished one more counter attack with very effective attempt. That was not enough and he scored one more form inside the box. Bad referee tried to disallow it because of offside, but VAR changed that decision.
Tottenham showed very serious skill from set pieces. Gianni Vio is obviously working hard on training. Way how Ivan Perisic is taking corners is frightening. His balls are rockets targeting heads of Spurs players. Yes he's that good! Opponents will think twice before they send ball in corner from now on. If we could move Kane away from direct free kicks and let them to someone who can send ball over live wall we'll have solution for any low block in league. However this performance was not breath taking, I want to see more good football actions from live play, chances created because live play, better play in last line and in midfield. I am not big fan of players return ball back until someone makes mistake or expecting from Hugo LLoris to build up play.
Word about referee. He gave a penalty for Leicester for slightest contact. He ordered repeat of shot. He disallowed our goal for slight contact with goalkeeper. There were three situations where spurs players wanted penalty. Two handballs and one foul, but TV broadcaster didn't bother to show any of them on replay. I wonder why is that ? Is it cooperation in attempt to steal ? That's disturbing. Despite he did everything he could to stop us, we gave them 6 goals. What is that telling you ? :) Yes we're to strong. What will happen if we rest Kane for 45 minutes like we did with Son ? Think about it. COYS!