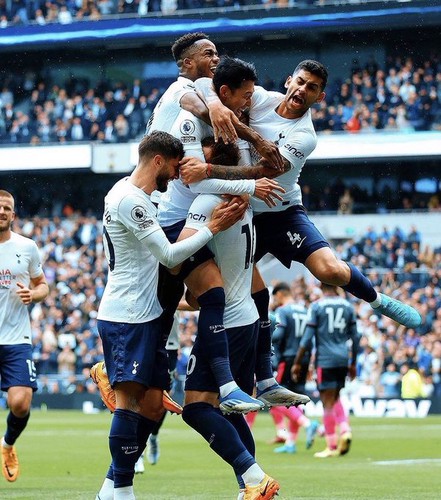 Tottenham won against Leicester City 3:1 and continue fighting for top 4 with Arsenal. North London rival won West Ham away 1:2 and is still favorite to get 4th place, especially because of fact that Tottenham is going to Anfield to play Liverpool next week.
Spurs moved good on the pitch, started very aggressive pressuring Foxes on their half, but couldn't make some good action which would lead to goal chance. Leicester had two, one saved by Hugo Lloris and another denied by by great intervention by hero of the night Cuti Romero. He was by the way man of the match for me.
I wrote recently about importance of practicing strikes from outside the box, run ins, better set pieces and I am happy to tell you that I saw improvement in all aspects. It's final confirmation that stuff members or Conte are reading scorum posts. :) First goal was after corner, Son crossed on first post and Kane did good header from close range and there was no hope for Schmeichel to save it. Kane was close to second after big mistake of Leicester defender, but Casper saved his attempt. Effort was there, movement was very good, but that first half lacked more good actions by Spurs. Only player who was really not so good was Lucas Moura. He lost literally every ball and did very little.
You can see goals here on Tottenham Hotspur youtube channel: https://www.youtube.com/watch?v=nmjcQGEqcFU
Second half brought Tottenham better play, hero of night Cuti Romero made wild tackle on center and hit the ball which went forward to Deki who founded Son who turned around himself and found net for 2:0. Very effective goal, but not the best move from Son we saw. More were yet to come! Third goal was absolute beauty where Deki passed toward Son on around 18m near edge of the box and he fired up missle with left leg in top corner of far away post. It was very very very effective goal which make you jump from seat. Leicester scored consolation goal near the end and after it Kane had chance but his strike went just outside of goal.
Next rival is title challenging Liverpool at Anfield, it's going to be though, I must confess I don't see us taking any point there, but what is important is to play on top of skill and with big effort and we'll see where that will bring us. Arsenal has struggling Leeds and fight for survival can be very good motivation. They also have Newcastle away and struggling Everton who can beat Chelsea so nothing has been decided yet. COYS!
What Benny Friedman would say:
It's a goal it's a goal, Son Heung-min just scored a goal!
Strike is good, strike is great it's a chance to celebrate!