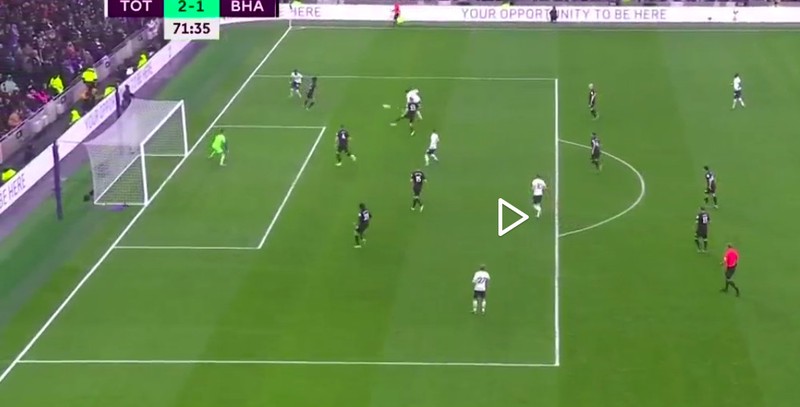 It's not always easy to return on winning ways after losing local derby. Some teams need weeks to recover after such blow. When we remember first game between these clubs where Brighton looked like Manchester City and easily won 3:0 it's clear how heavy task stood in front of Tottenham players today.
Mourinho is not changing much his squad. His starting eleven are well known. Enforced change Ryan Sessegnon instead of Son and Winks instead of Dier were only changes he made for this game. Match started with heavy fight on the center. H. Kane scored goal which was denied by VAR for very small offside. Things start to look ugly for Spurs when Sissoko missed great chance after set pieces which Brighton used to make quick counter attack ended by foul on left Spurs side close to penalty box made by H.Winks. He was complaining on ref's decision and got yellow card. Brighton showed why they are dangerous after set pieces once again. Adam Webster scored by head from 5m. He was taller than Alderweireld after jump. He also used hands which were over Tobby's shoulder and near his neck, but referee didn't see foul in this situation. It was hard to comprehend it's 0:1 instead of 1:0 few seconds before. I am more angry on Sissoko for missing that previous chance than on Alderweireld who lost aerial duel with taller opponent. Everyone can make mistake even the best Spurs defender. It wasn't his big game tonight. What is important is not repeat such mistakes to often.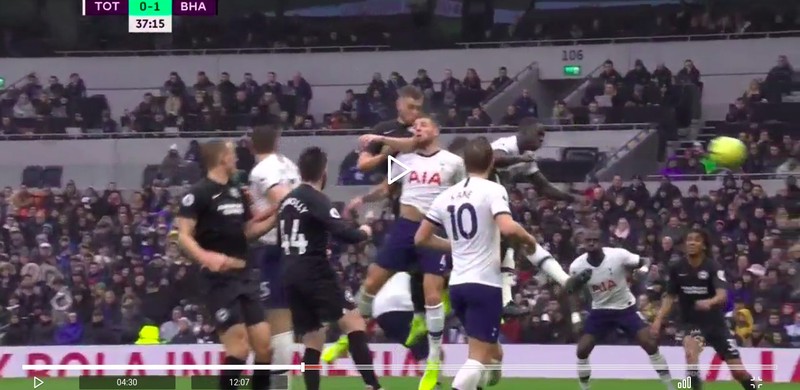 Spurs game in first half was dreadful, awful, catastrophic, car crush performance and I thought it's yet another Tottenham classic from this season. I predicted eating grass to grab point in second half. Fortunately lads woke up after half time.
Second period started with big chance for Brighton, they had plenty of space on Spurs right side, their player was all alone there and made very good cross, but other who was also without good marking didn't hit the ball with head like he wanted and it hit top of his head and went non controlled in goal kick. That was big luck especially for Tobby Alderweireld who should be closer to that lad and for players which should protect right side of Spurs defense. This swimming in defense will pass not noticed because it didn't end with goal which would probably be the end for Tottenham in this game.
Fact that luck was on Spurs side tonight confirmed equalizer which came after solo action of Lucas where he lost the ball, but Brighton player hit his teammate in clearing attempt and gifted ball to Harry Kane and this guy does not forgive such presents. First shot was not so good, goalkeeper deflected it, but second was deadly straight in the net for 1:1 and big relief for Spurs fans.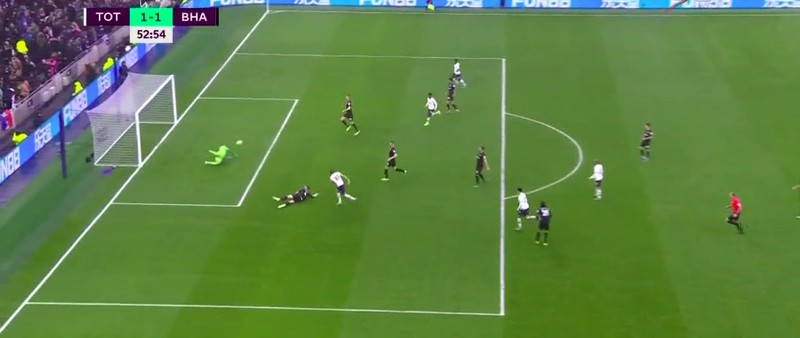 Tottenham started to play better, Lucas went more in center and on left side and was much much better there than on right. Coming in of Lo Celso looked like wake up call for North London side. When Eriksen joined party things looked much better.
In another similar action after Sissoko's non successful dribbling attempt ball deflected again to H.Kane, but this time he didn't shot like he wanted and great chance went away.
The most beautiful moment of game was Dele Alli's goal for 2:1. High Eriksen pass behind defenders founded Aurier who made fast and easy assistance for Dele who fired up volley which found little net of far away side of Brighton goal. Seagulls goalkeeper could just watch ball traveling inside his net. That was very nice goal and Alli deserved chanting "We've got Alli" which came immediately after this great volley.

In rest of the game Spurs defended and tried to score from counter attack, had one great chance, but shoot was blocked.
Spurs played far from perfection, but grabbed 3 important points and little more of self confidence. H.Winks was close to red card in second half, fortunately referee didn't give him after he made sharp foul on 20m from goal. Old fox like Mourinho saw that and immediately substitute him. He didn't play good tonight.
Strange fact was that N'Dombele was not even on bench today. Spurs coach said he's not injured, but he told him he is afraid of recent injury and feel not fit to play today. I don't know what is behind this story, does this guy have fitness problems, but he should definitely play more games at least one half. He is one of few in Tottenham who can take ball and run with it with good view on pitch and very creative. Also Foyth should get more minutes in first squad. His ability to take ball from other side and pace might be useful in defensive midfield position too. Something is wrong with this Winks and Sissoko midfield combination. N'Dombele and Foyth might play there in some games.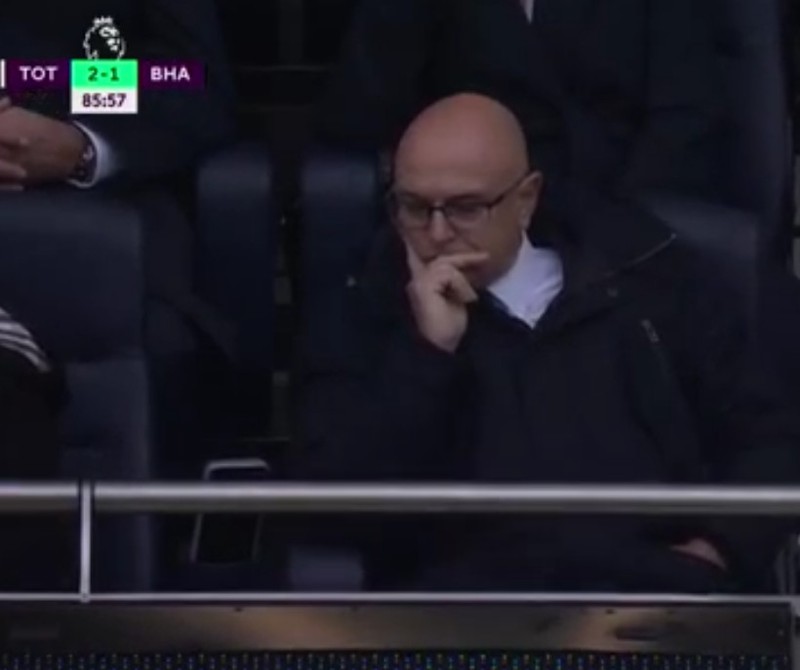 Spurs owner D.Levy didn't look very happy near the end despite 2:1 lead for Spurs. I hope this means some exciting incoming and outgoing transfers.