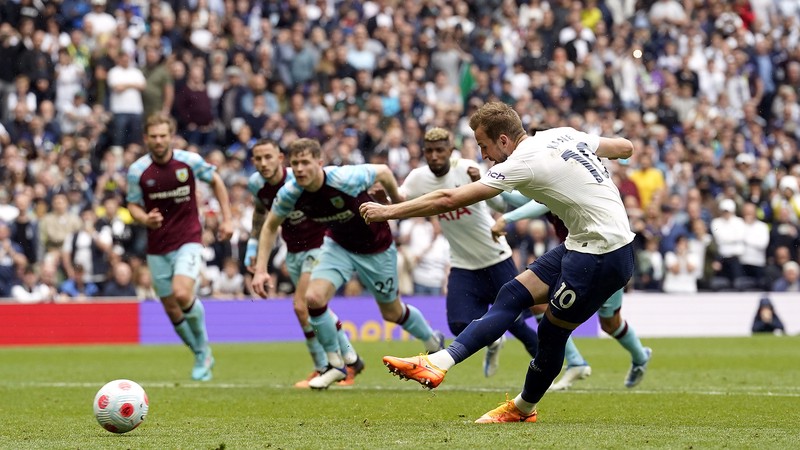 I don't like games which start in 12 o'clock, I don't like when Tottenham need to play teams which will defend with a lot of players and deny us space for play. I don't like when clubs are forced to play on Thursday night and then on Sunday noon. All fears were on place, but Spurs managed to win Burnley 1:0 and remain in top 4 race.
Victory came after penalty near the end of first half in which Burnley player moved arm in not natural position which made his body wider and ball sent by Sanchez hit it. I've seen a lot of crying after like soft, doggy. My favorite is it was a penalty but I wouldn't give it. Wait gentleman if it was penalty then it must be given right ? If arm is in air like player is policeman regulating traffic on street and ball hit him I think it's a penalty. I'd say the same if it has been given against us. I'd be angry on player who did that like I was on Moussa Sissoko in CL final in Madrid. Kane who was not so good during this game like all other players managed to score from it. His kick went near post so close that I shivered after watching replay.
We had attempts on goals, chances, Burnley had one big one too, but Lloris saved it despite he was hit by some virus day ago like 4 other players. He played under fever and saved that effort. Kane had one chance after Lucas penetration inside the box, but sent ball wide. He had another one but his kick was cleared from goal line by Burnley player. Spurs made few shots outside the box too, but all saved by very good Burnley goalkeeper Nick Pople.
I thought we'll dominate in second half because they should open and let us have some space, but what I saw was giving away unnecessary free kicks, headers by Burnley which went near goal and one great attempt which hit the post! It lookes like Tottenham 2 was on the pitch again. One from first leg in Burnley, one against Middlesboro or Wolves and that upset me. Spurs had some chances, but Son couldn't find the net, because Nick Pope was to good saving everything.
I understand players were tired after North London Derby, some of them hit by virus, I can't say they didn't give enough effort, they ran, gave effort, but just couldn't bring Burnley into our goal machine. Fans were great again stadium did shake on chant "Antonio Antonio Antonio". Antonio Conte said he sees his long term future in Tottenham, that he is ready to achieve big things with this club! He said players gained winning mentality that few months ago they wouldn't win this game. We are in front of Arsenal at the moment, they need to play against Newcastle tonight, we are still in Champions League race.
I want to point out to what happen after the game when wives and kids of players entered the pitch. They don't deserve enough credit for taking care of kids and house jobs while husbands are away on training or games. Kane himself said he's more with Son than with his wife once. The benefactor has 3 daughters and all of them came on pitch with mum Kattie Goodland. She prepared them with shirts with number 10 with Daddy instead of player name. As big gentlemen and romantic as he is Benefactor made appreciation tweet toward fans and his family without whose support he couldn't do what he is doing.
The support we've had this season and especially in the last few weeks has been incredible so it was great to be able to show our appreciation as a team after yesterday's win. Great to have my family on the pitch with me too - couldn't do it without their support. 💙
It was nice to see Hojberg, Lucas, Sanchez, Lloris and other players with families on pitch too. As big coach as he is Conte talked and meet all. Real coach is not just football tactician and motivator, he need to know every thing from player's personal life too. He's like their father too. That's why Sir Alex Ferguson was so good. Players like Dier could not hide they'd love to continue working with Conte. There is big unity in that dressing room. That is something we need to achieve big things next season. Owner Daniel told he's ready to support Conte in significant way this summer. That's what all of fans want.
Son won fans player of the year award, Bergwijn won fans goal of the season award for his goal against Leicester. All watched moments from last season on big screen after the game too.
My end conclusion about this frustrating game against Burnley is we won them, there was no controversy with penalty, we didn't play well, we were tired and hit by virus, we were forced to play in 12 o'clock and the most important we still need to learn how to break such teams and give them couple of goals and not shiver until the end like yesterday.