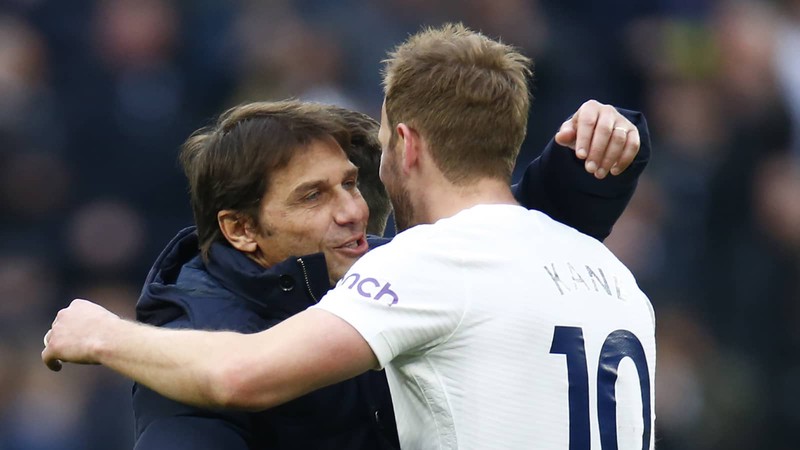 Tottenham won away Fulham 1:0 thanks to great goal of Harry Kane. Son Heung-min passed to him near edge of the box, divinity from N17 received ball, transfer it to right foot, turned around, fired great shot which ended in Leno's net. He equalized all time high goal scoring record in Tottenham shirt Jimmy Greaves, scored 266 goals in 379 games in Tottenham shirt. He could go to 267, but his effort with header from 5m. was saved by Leno. That strike would be goal every other day. According to Conte he played under fever. When we talk about EPL only goals and chasing Rooney (208) and Shearer (260) divinity from N17 is on 199 from 300 games.
Great achievement was also keeping clean sheet. Team effort in defense was very good from forwards like Son and Kulusevski, midfielders like Bentancur and Hojbjerg over all central defenders to man of the match Emerson Royal. He literally nullify Willain. Hugo Lloris saved few attempts which came on goal. I didn't see many strange mistaked except Romero's giving away balls on 5m from him straight in opponent's legs who fortunately didn't convert those gifts into big chances.
Away supporters were great, they sang against Levy in second minute of the game and for Antonio multiple times during the game. I hope this message has been received in board which must do what majority of fans wants which is to continue cooperation with Antonio Conte and back him. I hope they will stop drilling their own team and let those players playing normal football.
I also hope that when we are defending we will be more capable of doing counter attacks with balls in space for Son or Deki. Korean needs ball in space to show his pace and to shot on goal. I know Bentancur is just come from injury, need few games to gain pre injury form. Let's listen to Conte and do what he wants on the pitch and win Preston away in FA cup where there will not be either Arsenal either City because they are playing each other. Message for board at the end. Don't drill your own team, back elite coach you have, bring him at least two players he wants and increase our chances to be successful in this season. Antonio said he's happy in Tottenham.
Spurs Song Sheet wants you to learn this song for our great striker:
HE'S OUR ONE SEASON WONDER
HE'S THE BEST WE'VE EVER KNOWN
HE'S ENGLAND'S TOP GOAL SCORER
AND HE'S ONE OF OUR OWN
HE PASSES LIKE GLENN HODDLE
HE SCORES LIKE JIMMY GREAVES
HIS NAME IS HARRY KANE
HE'S THE BEST WE'VE EVER SEEN
ALLEZ ALLEZ ALLEZ…
https://twitter.com/SpursSongSheet/status/1613947648288985108

Would be shame if we go to Istanbul this year and not to sing that on Istanbul square. :) Conte said we whould be dreamers. How dreamy does this sound to you ? This does not need to be dream. We are 2-3 players in January away from this.
Journalist Ormstein claimed he's open to talks to extend his contract to club if "circumstances are right" (clubs vision equals to Conte's and fans) which wake hope he's going to be our player until end of career! Finally some good news about our club! COYS!